DBC message & signal syntax
Let us start with a real CAN DBC file example.
Below is a demo J1939 DBC file that contains decoding rules for speed (km/h) and engine speed (rpm). You can copy this into a text file, rename it as e.g. j1939.dbc and use it to extract speed/RPM from trucks, tractors or other heavy-duty vehicles.
At the heart of a DBC file are the rules that describe how to decode CAN messages and signals:

---
Example: Extract physical value of EngineSpeed signal
---
Online CAN DBC editor
---
J1939/OBD2 data & DBC samples
---
Advanced: Meta info, attributes & multiplexing
In this section we briefly outline some of the more advanced topics of CAN DBC files, incl. meta info, attributes, value tables and multiplexing. If you're new to DBC files you can optionally skip this section.
---
DBC software tools (editing & processing)
Software that uses CAN DBC files can be split in two groups: Editing & data processing.
Public DBC files for your car
Reverse engineered CAN/OBD2/UDS databases for cars
Below we list a number of online open source databases that contain decoding rules for cars in the form of DBC files (or other formats). These are typically based on reverse engineering so the quality may vary.
OpenDBC: DBC files for BMW, Cadillac, Chrysler, Ford, GM, Honda, Hyundai, Lexus, Nissan Leaf, Tesla, Toyota, VW and more
Tesla Model 3 & Y: DBC file for Tesla Model 3 and Tesla Model Y
OBD Dash: Proprietary OBD2 PID info on Mitsubishi, Renault, Subaru, Opel, Hummer and more
Kia Soul: Google sheet containing decoding information for the Kia Soul EV

Open Garages

: Collection of links for decoding info, incl. Mazda, Ford Mondeo, Prius, Mini Cooper, Dodge and more
EV PID collection: Proprietary OBD2/UDS PIDs for EVs, incl. Hyundai Kona, Ioniq EV, Kia Niro, Optima, Ray, Soul EV and more
Nissan Leaf DBC: Nissan Leaf EV DBC files for use in some Leaf EV models (though not 2019+)
Renault Zoe: This CSV contains decoding info for the Renault Zoe EV
Get the 'DBC Data Pack'
Want a compiled list of car DBC files?
Download your 'data pack' incl. our OBD2 DBC, 25+ car DBCs and 100+ MB of OBD2 data across 10+ cars!
Learn more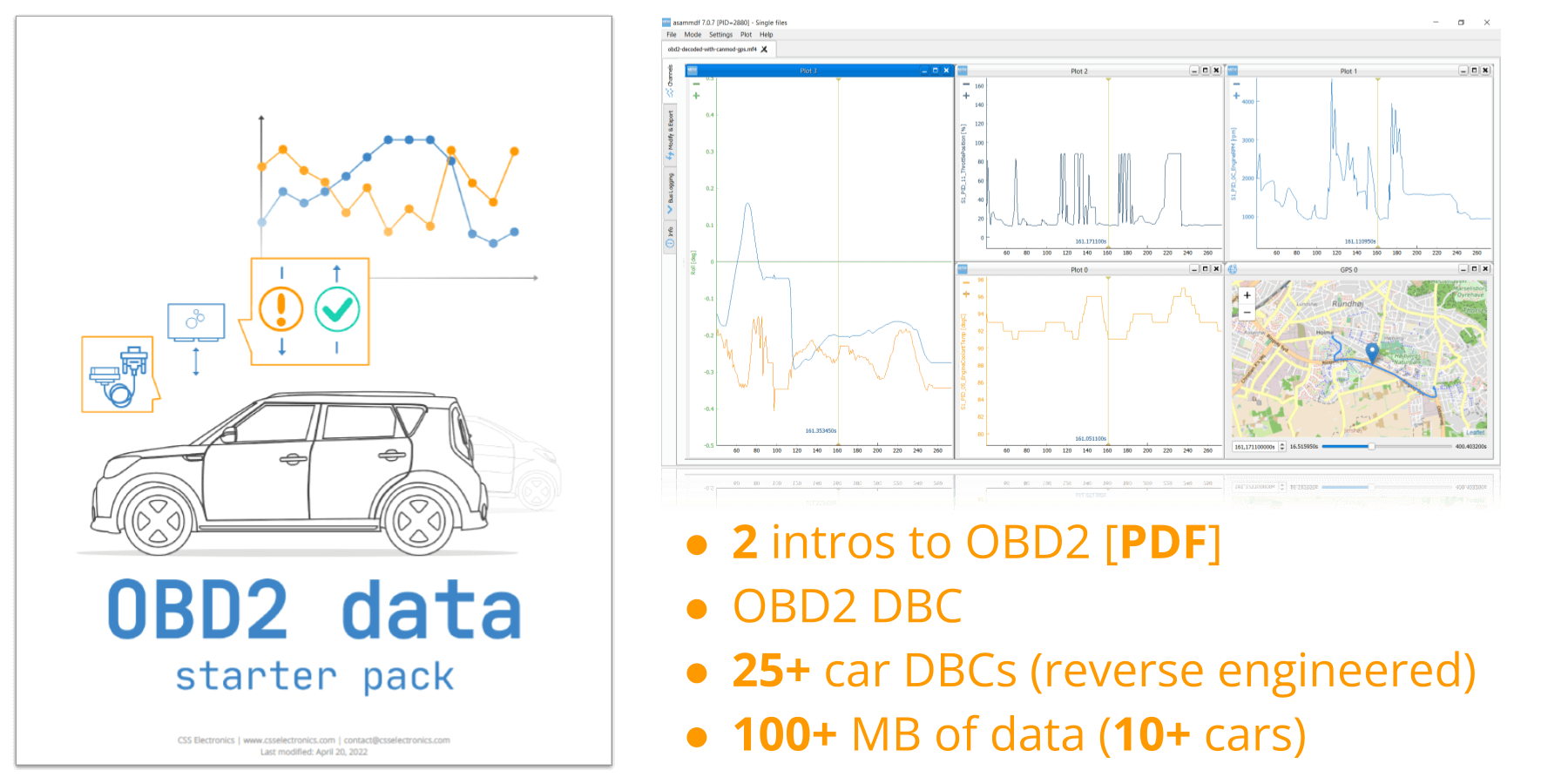 CAN DBC file example use cases
DBC files are vital to practically any use case related to logging CAN bus data - below we outline some examples:
FAQ
For more intros, see our guides section - or download the 'Ultimate Guide' PDF.
Need to log & DBC decode your CAN data?
Get your CANedge today!
---
Recommended for you