PLUG & PLAY
Log data out-the-box. Standalone. Link your CAN bus to your server in <2 mins
PRO SPECS
Extractable 8-32 GB SD. 2xCAN/LIN. CAN FD. Zero data loss. 50 µs RTC. Error frames. MF4
SO SMALL
Only 8 x 5 x 2 CM. 100G. Aluminium enclosure. 5 LEDs. Configurable 5V power out (CH2)
SECURE WIFI
Push data via WiFi access points to your own server. Enterprise grade security
MANAGE FLEET
Easily update config/FW over-the-air across entire fleet. Auto-sync RTC via WiFi
INTEROPERABLE
Free & open source software/API. MF4 to ASC/CSV. DBC support. Python. Dashboards
"The CANedge2 helped us streamline testing and got us up-and-running at a rapid pace. And the support from CSS Electronics was outstanding!"
— Andrew Nolan, Volkswagen
"The CANedge2 is a high quality product, but the support from CSS Electronics makes it an absolutely unbeatable solution!"
— Bart van der Vlugt, Kverneland
"Excellent functionality. Outstanding support. Continuous improvements. Low cost. The CANedge2 is the best you can get!"
— Luis E Lopez Rojas, Cummins
Pro specs CAN logger
- at half the cost
The CANedge2 combines innovative design, cutting-edge components - and incredibly low costs:
Dual high speed CAN/LIN (incl. CAN FD) channels
Extractable 8-32 GB industrial SD card (= months of data)
Binary MDF4 log file format
Advanced message filtering & transmit functionality
Start/stop logging triggers based on CAN ID & databytes
Silent mode, bit rate auto-detection, cyclic logging
Data compression & encryption (e.g. for GDPR, CCPA)
Support for CAN/LIN error frame logging
Fast boot time. Safely disconnect during use (power safe)
Buy now
Tech specs
use cases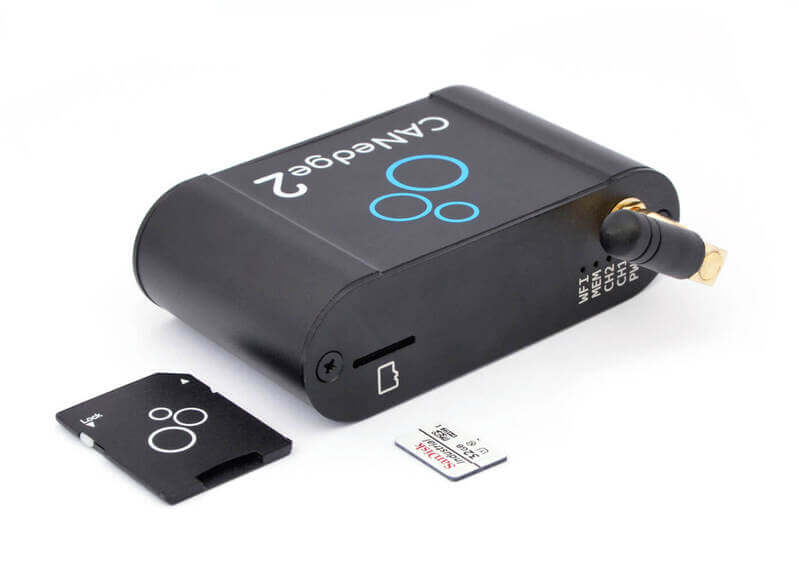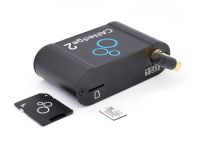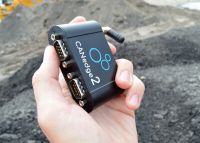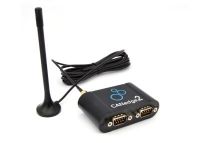 Reinventing telematics
Today, fleet telematics is vital across vehicles and machines.
However, end users face challenges: Expensive subscriptions. No data ownership. Security concerns. Vendor lock-in.
The CANedge2 provides a modern alternative:
Upload data to your own local/dedicated/cloud server
Simply add WiFi access point & server details to the config
Log data to the SD and auto-upload when connected to WiFi
Configure file split size/period to control upload frequency
100% secure: HTTPS, credential encryption and more
Manage via over-the-air updates (firmware & configuration)
Power e.g. a 4G hotspot or GPS-to-CAN via the 2nd port
Zero fees. Zero lock-in. Interoperable. Open source tools
Buy now
WiFi specs
Open source software/API
- naturally
The CANedge2 uses open formats (MDF4 data, JSON config, S3 server) - and all software/APIs are 100% free and open source.
The software toolbox includes:
Editors: Easily modify your device config (online/offline)
Converters: Convert data to Vector ASC, PEAK TRC, CSV, ...
asammdf GUI: DBC convert, plot and export your data
Python API: Automate your data processing & integrations
Dashboards: Visualize data in custom browser dashboards
CANcloud: Manage connected CANedge2 devices & data
S3 drive: Mount your S3 server as a 'local drive'
Learn more
Check out our tech specs, use cases or FAQ - or buy now!
GENERAL
Functionality
Standalone CAN bus data logger with SD card, 2xCAN/LIN channels (incl. CAN FD) and WiFi
Firmware
Supports free firmware updates for adding features
Configuration
Configuration files based on the popular open source JSON schema concept
Software
Free open source editor tool for easy device configuration (offline/online version available)
Free open source asammdf software & API for editing, DBC converting & plotting MF4 data
Free open source C++ MF4 converters - drag & drop log files to convert into e.g. CSV, ASC, PCAP
Free open source data processing Python API - e.g. for use in setting up browser dashboards
Free open source CANcloud telematics platform for managing devices & data via your browser
Multiple tools (free/paid) for mounting your S3 server as a local drive - making it easy to manage devices and process log files
Free open source telematics dashboards for visualizing your physical value data in your browser
Safety
CE, FCC, IC and RoHS certified (see the manual)
Tested for voltage transients (emissions/immunity), ISO 7637-2:2011, by TUV SUD (see the manual)
Variant certified for South Korea, Japan & more is available on-request (contact us)
Warranty
1-year warranty
Support
Free, fast & high quality support
Origin
Denmark
CAN BUS
Channels
2 x CAN/CAN FD channels
Standard
ISO 11898: Compliant with CAN (up to 1 Mbit/s) and ISO & Bosch CAN FD (up to 5 Mbit/s)
Protocols
Log raw data from CAN based protocols (J1939/FMS, CANopen, NMEA 2000, OBD2, CAN FD, UDS, ...)
Identifiers
Compliant with CAN specifications 2.0A (11-Bit ID) and 2.0B (29-Bit ID)
Bit-Rate Auto-Detect
Bit rate can be auto-detected or set manually
Retransmission
Configurable retransmission of frames that have lost arbitration or been disturbed by errors
Transceiver Protection
±16 kV HBM ESD, ±15 kV IEC ESD, ±70 V bus fault, short circuit
Common mode input voltage: ±30 V
TXD dominant timeout (prevents network blocking in the event of a failure)
LIN BUS
Channels
2 x LIN channels
Publisher/Subscriber
Each LIN channel can be configured as a LIN subscriber/publisher with support for LIN data transmission
Custom length
Support for custom frame lengths
Standard
Compliant with LIN 2.0 up to 20 Kbit/s (support for Classic & Enhanced checksum format)
Transceiver Protection
±8 kV HBM ESD, ±1.5 kV CDM, ±58 V bus fault
TXD dominant timeout (prevents network blocking in the event of a failure)
DATA LOGGING
SD Card
8 GB extractable Class 10 industrial micro SD (SDHC) included (optional 32GB) - read at 80 MB/s  

 i 

The device uses a class 10 industrial micro SD card with strong specs:

Speed Class 10 U1
Write/read at up to 50/80 MB/s
Extremely high endurance
Extended product life cycle
Durable design
Enables device power safety

Parallel CAN/LIN
Record data from up to 2 x CAN channels + 2 x LIN channels, simultaneously
Real-Time Clock
Yes - CAN frames are date & timestamped with 50 microsecond resolution (battery backup)
The RTC can be configured to match local time zones (default: UTC)
Log File Format
Log data in industry standard binary MF4 (easily convert to e.g. CSV, ASC, pandas, MATLAB, ...)
Data Compression
Configurable embedded log file compression (~50-80% size reduction)
Silent Mode
Configurable silent mode: Restricted (acknowledge only) or monitoring (zero transmission)
Filters
128/64 regular/extended ID filters per channel (range, mask, acceptance, rejection)
Prescaling
Prescale CAN frames to record e.g. by time (per X ms) or by data (e.g. if byte X or Y changes)
Transmit
Transmit lists of CAN frames per channel (single-shot/periodic) - e.g. for OBD2 requests
CAN Error Frames
Support for logging CAN error frames (bit-stuffing, form, CRC, bit, acknowledgement)
LIN Error Frames
Support for logging LIN error frames (checksum, receive, synchronization, transmission)
Remote Frames (RTR)
Support for logging/transmission of remote CAN frames (RTR)
Cyclic Logging
Optional cyclic logging mode (oldest log file is deleted when SD card is full)
Advanced Triggers
Control signal lets you start/stop logging based on custom CAN IDs & data thresholds
CAN Heartbeat
Optionally transmit heartbeat CAN frame with device status, storage used & RTC time
File Split
Configurable log file split size (by size: 1-512 MB and/or by time period: 0-86400s)
Power Safe
100% power safe data logging - no file corruption when disconnected
Unique Device ID
Each device has a globally unique ID ensuring unique log file naming
Data Encryption
Log files can be encrypted at rest on the SD card for security/GDPR/CCPA (incl. integrity check)
WIFI
Transfer Modes
Station mode: Connects to a WiFi access point (e.g. a router or 3G/4G hotspot) to transfer data
Protocol
HTTP/HTTPS: Stable and secure transfers - ideal for big data telematics
Access Points
Add 1-5 WiFi access points. Prioritized order. Condition on signal strength
Over-The-Air (OTA)
Configuration & firmware over-the-air (COTA/FOTA). Configurable sync rate. Optionally disable
WiFi Heartbeat
If enabled, the CANedge2 periodically "checks-in" by uploading a small device status file
Data Upload State
Optionally disable/enable upload of log files (e.g. via over-the-air configuration)
Range
Strong range via external WiFi antenna
LAN Standard
IEEE 802.11 b / g / n
Frequency
2.412-2.472 MHz (power output of 18.5dBm, 802.11b 11Mbps)
Antenna
External (SMA, <2 dBi gain) - optionally extendable via extension cable
Server Interface
Popular S3 REST interface - plug & play with MinIO (open source), AWS, Google Cloud, ...
SECURITY
HTTPS
Data & over-the-air updates can be sent via HTTPS (TLS 1.2) for secure transfer
WPA/WPA2
Supports WPA/WPA2
Credential Encryption
WiFi access point & server credentials can be encrypted in the config on the device SD card
Signed Firmware
Firmware updates are digitally signed to verify that they are from a trusted source
ELECTRICAL
Via CAN bus
+7V to +32V DC via the Channel 1 DB9 (e.g. via CAN connector power pin)
Power Consumption
Extremely low (~1 W) - no risk of battery drainage
Protection
Reverse voltage protection on CAN-bus supply
Transient voltage event protection on supply lines
MECHANICAL
Enclosure & Weight
Compact aluminium enclosure: 52.5 x 81.4 x 24.5 mm (L x W x H) excl. antenna, 100 grams
Connector
2 x Standard D-sub 9 (DB9) connectors (optional OBD2/J1939/... adapters)
Pin-Out
See the product manual for the DB9 connector pin-outs
Configurable Power Out
Channel 2 can be configured to supply 5V to 1-3 modules (e.g. 3G/4G hotspot, GPS-2-CAN, ...)
LEDs
Logger status via 5 external LEDs: Power, CH1, CH2, Memory, WiFi
Temperature
Operating temperature (parts): -25degC to +70degC
IP Rating
IP Rating 40
The CANedge2 is a powerful, standalone CAN logger for ad hoc analysis, diagnostics and development.
However, the device truly shines in e.g. fleet telematics and IoT machinery setups:
The CANedge2 CAN data logger is our "next generation" WiFi CAN logger.
We've taken all learnings & feedback from the CLX000 series - in particular the CL3000 - and applied it in the CANedge2.
Key improvements with the CANedge2 include:
WiFi
WiFi: Vastly improved WiFi (stability, range, dynamic switching between 1-5 WiFi access points, device status updates)
Over-the-air updates: Update device configuration/firmware over-the-air (OTA) with a few clicks - incl. via batch tools
Security: Secure HTTPS transfers (instead of unsecured FTP). Encrypted credentials on SD
Clouds: S3 interface enables plug & play integration in e.g. AWS, Google Cloud, Azure - and free S3 servers like MinIO
S3 API: The S3 API enables easy automation of your server file management incl. e.g. OTA updates and log file processing
Mechanical
Aluminum enclosure: New enclosure is far more robust and enables use of different external WiFi antennas
Power out: Power external modules via the 2nd port e.g. a GPS-to-CAN, Temperature-to-CAN or 3G/4G hotspot
Channels: 2xCAN channels, which enables logging from 2 CAN buses in parallel
Industrial SD: The CANedge uses an industrial SD card, improving performance, life time, temperature range & more
Extractable SD: The SD can be extracted to transfer data at 80 MB/s (vs 0.5 MB/s for the CLX000 via USB)
Log files & software/API
MDF4 log files: Popular binary MDF4 format - more compact than CSV, faster to process, supported by many CAN tools
CANcloud: Open source CANcloud browser tool makes it easy to manage log files and e.g. configure devices (incl. OTA)
JSON Schema: Config files are based on the JSON Schema concept, supported by many open source tools
asammdf GUI: Enables user-friendly MDF4 log file editing, DBC-conversion (incl. OBD2/J1939), graphical plots & more
asammdf API: Easily process your data at scale and automate the creation of e.g. reports/databases/dashboards
Converters: Open source light-weight converters enable drag & drop/CLI conversion of MDF4 into e.g. *.csv and *.asc
Data logging
Lossless: The CANedge can log extreme bus loads with zero message loss (the CLX000 is limited to ~1000 frames/sec )
Compression: Optional compression lets you reduce file size by 50-80% vs. the CLX000
Encryption: Optional encryption lets you encrypt log files on the SD card for added security
Advanced configuration: More advanced filters & transmit lists (e.g. up to 128 filters vs. 8 on CLX000)
Precision: 20x higher RTC resolution (50 micro seconds) - with advanced WiFi RTC sync
Boot time: Much faster boot time vs the CLX000 (~1 sec vs. ~10 sec)
CAN FD: The CANedge2 supports CAN FD (Flexible Data-Rate), making it future proof
Further, the CANedge series will be our focus for new firmware upgrades - meaning you'll see a lot of powerful features added in addition to the above over the coming period.
The CANedge1 and CANedge2 are 100% identical, except for the WiFi functionality in the CANedge2.
If you only need to collect your CAN data rarely and the device is physically accessible with ease, then the CANedge1 is typically enough. However, if you need to collect your data frequently and ideally remotely, the CANedge2 will quickly be worthwhile. In particular, if you need to collect data across a fleet of vehicles or machines, the CANedge2 is far more practical and cost effective.
The CANedge2 also has the added advantage that you can fully automate your data collection, as well as your data processing workflow. For example, you can set up automated Python API scripts to modify your data, DBC decode it - and e.g. setup telematics dashboards. The CANedge2 is also easier to manage in the field as you can monitor the status via the CANcloud telematics platform and e.g. perform over-the-air configuration and firmware updates.
The size of a raw MF4 log files depends on the type of application. However, on average a raw CAN bus log file will be ~50-100 MB/hour if no configuration changes are made.
With an 8 GB SD card, the CANedge would thus be able to record about ~80-160 hours of non-stop data.
However, the CANedge is designed to optimize this drastically via below configuration options:
Compression: Enabling compression will reduce the data size by 50-80%
Filters: You can specify which CAN IDs to accept or reject (incl. via ranges and masks)
Prescalers: You can selectively prescale filtered CAN IDs by count, period or data. This e.g. lets you record only every 5th observation, or one observation per 500 ms. The data prescaler lets you record observations only if data byte X or Y changes
Control signal: This lets you specify when to start/stop logging based on CAN ID and data byte patterns
By using these options, most users end up with ~4-15 MB/hour. On an 8 GB SD card, this results in 500-2000 hours of non-stop data (1-3 months). On a 32 GB SD card, this corresponds to 2000-8000 hours of non-stop data (4-12 months).
Should the SD card become full, enabling cyclic logging will allow the CANedge CAN data logger to keep recording data by deleting the oldest log files first.
The CANedge series is generally superior when it comes to logging data to the SD card vs. the CLX000. However, the CANedge does not support real-time streaming via USB. For this type of use case, we would recommend e.g. the CL2000. In the medium-term we may potentially add wireless real-time streaming as a separate product to enable streaming your CAN bus data via WiFi.
In the below, we outline the basics of how you get started logging raw CAN data.
Connect the CAN logger to your CAN bus (optionally using one of our DB9 adapter cables)
The device powers on, detects the bit rate and starts logging raw data to the SD card
Disconnect the device, extract the mini SD and insert it into your PC (optionally via an SD adapter)
From here, you can open the raw log files in e.g. the asammdf GUI/API for export/DBC conversion
Once you've verified that you're logging data as expected, you can set up the WiFi/server for wireless CAN bus data upload:
Set up your S3 server (see the getting started guide) - for simple setups, this can be done in <5 mins
Open the device configuration file via a text editor - or, preferably, via the CANcloud editor
In the configuration, enter your WiFi hotspot SSID/password and server details
Download the updated configuration file to your device SD card and power on the device
The device now auto-pushes both logged data and it's configuration file to your server
You can now optionally manage your devices/data from the browser by logging into your server via CANcloud
From here, you can do more advanced things - for example:
You can encrypt your WiFi/server credentials using the CANcloud editor tools
You can enable TLS on your server/device to transfer data securely via HTTPS
You can use over-the-air updates to change the configuration/firmware of your device(s)
You can set up automated processing of your data via the S3/MDF4 APIs
You can download the CANcloud source code, optionally customize it and host your own version
For more details on how the device works, we recommend reviewing the getting started guide and product manual.
The CANedge2 combines two areas: High performance CAN data logging - and a unique approach to CAN bus telematics.
First, it serves as an extremely powerful CAN bus data logger with specs that match some of the best pro CAN loggers on the market (at less than 50% of the cost).
Second, it provides a fresh angle on today's CAN bus telematics industry by giving back control to the users:
You send your CAN data to your server via your WiFi access points
We charge no subscription fees - and we never see your data
Modern end-to-end IoT security is a corner-stone in the design - where many existing solutions suffer from legacy issues
While you may get fewer bells & whistles than with a full-blown telematics solution, many use cases actually benefit from this as you tailor your solution to your needs. And with our free CANcloud software you have an excellent starting point.
Finally, we're developers - and we've designed the CANedge2 to be awesome to work with:
We log in an industry standard log file format (MDF4) which is non-proprietary, easy to work with and supported by many software/API tools - incl. the 100% open source asammdf GUI/API
Files are uploaded using the popular S3 object storage concept. This lets you manage files via the open source S3 REST API available in all major programming languages - on both your private/cloud servers
Our configuration file is based on the popular open source JSON Schema concept - supported by many open source tools & APIs (e.g. the react-jsonschema-form used in CANcloud)
The CANcloud data & device management tool is 100% open source and can be easily customized for your needs
The free telematics dashboard integration with Grafana lets you set up 100% custom dashboards in minutes
Yes - and it's really easy! You just need to host an S3 compatible server e.g. on your own PC.
We recommend MinIO Server, which is a 100% free, open source & lightweight solution. You simply download it, run a command and you're ready to setup your WiFi CAN bus data transfer.
For details on how to get started with your own S3 server, see our documentation.
Yes, the CANedge2 WiFi CAN logger is designed for easy CAN-to-cloud integration.
For AWS, Google Cloud, Wasabi S3 and DigitalOcean it's very simple as they natively support the S3 interface - letting you get started with the WiFi CAN bus data transfer in minutes.
For Azure and other cloud servers, you simply need to run an S3 gateway (e.g. MinIO Server) on the server. This takes a few minutes extra vs. e.g. AWS/Google Cloud - but is still very simple to set up.
For more details, see our documentation: Setting up an S3 server.
Yes. There are two aspects of the CANedge2 that makes this very simple to set up:
First, the CANedge2 uses the automotive industry standard format, MDF4 (aka *.MF4). This means that most CAN software tools can process the log files - and multiple open source MDF4 APIs exist, making the processing simple.
Second, you'll typically want to set up a script that manages the files directly on your server. Here, the CANedge2 utilizes the S3 interface to upload files, which means you can use any S3 API/SDK to manage the uploaded files. For example, the open source AWS SDK can be used for this purpose.
See also our github page for useful script examples.
The CANedge2 CAN data logger offers a lot of powerful functionality for optimizing cloud server storage and cellular data transfer costs:
Filters: You can add up to 128 filters to get specifically the data you want
Prescalers: You can e.g. specify that CAN ID X should be logged only every Y ms
Compression: The CAN logger supports embedded data compression, reducing log file size by 50-70%
5 hotspots: Add e.g. a garage WLAN as #1 and a 4G in-vehicle hotspot as #2 to dynamically optimize cellular usage
Over-the-air: You can change all configurations remotely - e.g. adjusting filters on-the go or enabling/disabling logging
The CANedge2 does not have built-in GPS, but it's easy to add due to the modular design.
Specifically, the 2nd port can be configured to supply 5V power to 1-3 external modules.
As such, you can power your CANedge2 via the CAN bus via the 1st port - and add e.g. the CANmod.gps GPS-to-CAN module in the 2nd port. The data from the GPS module will then be recorded on the CANedge2 SD card (i.e. it's not sent into the CAN bus, retaining silent mode).
You can of course also connect our CANmod.temp temperature-to-CAN module or CANmod.input analog/digital/pulse to CAN module.
Yes. The CANedge2 WiFi CAN data logger can connect to any WiFi hotspot: WLAN, 3G, 4G, 5G.
For example, you can connect the CANedge2 to a USB cellular WiFi router. This USB hotspot can be powered via the 2nd port of the CANedge, allowing for a simple installation in e.g. vehicles (as you'll just power the CANedge2 via the CAN bus connector).
We do not include a built-in SIM card in the CANedge2 because we believe the WiFi approach is superior:
A built-in SIM card adds substantial costs, but is not always needed (e.g. in production sites, warehouses, mines, ...)
With an external cellular hotspot (powered via the 2nd port), the CANedge2 can easily gain cellular connectivity
By supporting 5 hotspots, the CANedge2 can dynamically switch from e.g. a 4G hotspot to a WLAN to minimize data costs
You can e.g. add up to 5 driver smartphone hotspots to the CANedge2 (log file META tags shows the SSID, aka driver)
The external antenna (and e.g. 4G hotspot) are extendable and can e.g. be moved outside shielding for better range
The CANedge2 can easily connect to a 5G hotspot - i.e. you won't have to worry about future compatibility
No, the CANedge2 has an 8 GB SD card and can work as a stand-alone CAN logger without WiFi. For most CAN bus applications, 8 GB will provide many weeks - if not many months - of data capacity (in particular when using the binary MDF4 format). Further, with cyclical logging, you can ensure you always keep the most recent data - should you encounter extreme scenarios where you run out of space.
When connectivity returns, the CANedge2 will automatically start pushing the data to your server.
Note: Once a file is transferred, it's deleted from the SD card - but only if the transfer is successful.
The CANedge2 can split files every 10-86400 seconds or every 1-512 MB. When a new log file is created, it's automatically transferred to your server if the CANedge2 is connected to a WiFi hotspot. As such, you can get a steady stream of incoming files and by using the APIs for MDF4 log files and the S3 interface, you can easily auto-process the incoming data in near real-time.
For most intents and purposes, however, we recommend to use medium/larger log file sizes (e.g. 5-20 MB) to avoid an excessive amount of log files in your server.
MQTT (Message Queuing Telemetry Transport) is a light weight messaging protocol, which is used by many IoT devices. As such, it is also supported by some cloud server IoT services for enabling e.g. statistics and analytics.
We originally considered the MQTT protocol as an option for uploading data via the CANedge2, but found that it is less suited for "big data" uploading. The protocol is ideal for very small packets at low resolution sent by e.g. streaming devices (with no local storage capability). However, for logging the full CAN bus load from e.g. a vehicle, the MQTT protocol would quickly get overloaded - resulting in very poor performance. For example, the protocol would make it practically impossible to "offload" all the data recorded on the CANedge2 SD card after e.g. a period with no coverage as new data would be recorded at a higher rate than it could be uploaded.
Instead, the CANedge2 utilizes the S3 REST interface with the HTTP(S) protocol. This combination is ideal for uploading large log file packets to either local/dedicated servers like MinIO or cloud servers like e.g. AWS, Google Cloud and Azure. In particular, it allows for uploading data from the CANedge2 much faster rate than new data is recorded - meaning that the device can stay offline for longer periods and still offload all log files when it regains coverage.
At this stage, we've not included an Access Point mode to the CANedge2 (contrary to the CL3000). However, we may add this at a later stage if it's useful to our users.
We offer a 32 GB upgrade (it's an option when you buy from our site), using tested industrial SD cards. You can also add your own SD card (up to 32 GB), though we recommend in this case to test the device to confirm expected functionality.
Yes, we actively seek to collaborate with partners - in particular cloud analytics providers.
The CANedge2 is designed to be easy to work with (plug & play cloud integration, open source file format, S3 interface, APIs, ...). The aim is that the device can serve as a plug & play solution for analytics providers that wish to focus on developing other aspects than hardware.
As a team, we're very open to suggestions from partners - assuming features/changes improve the overall product.
We're flexible in terms of models and recommend that you reach out to us to discuss further.
---