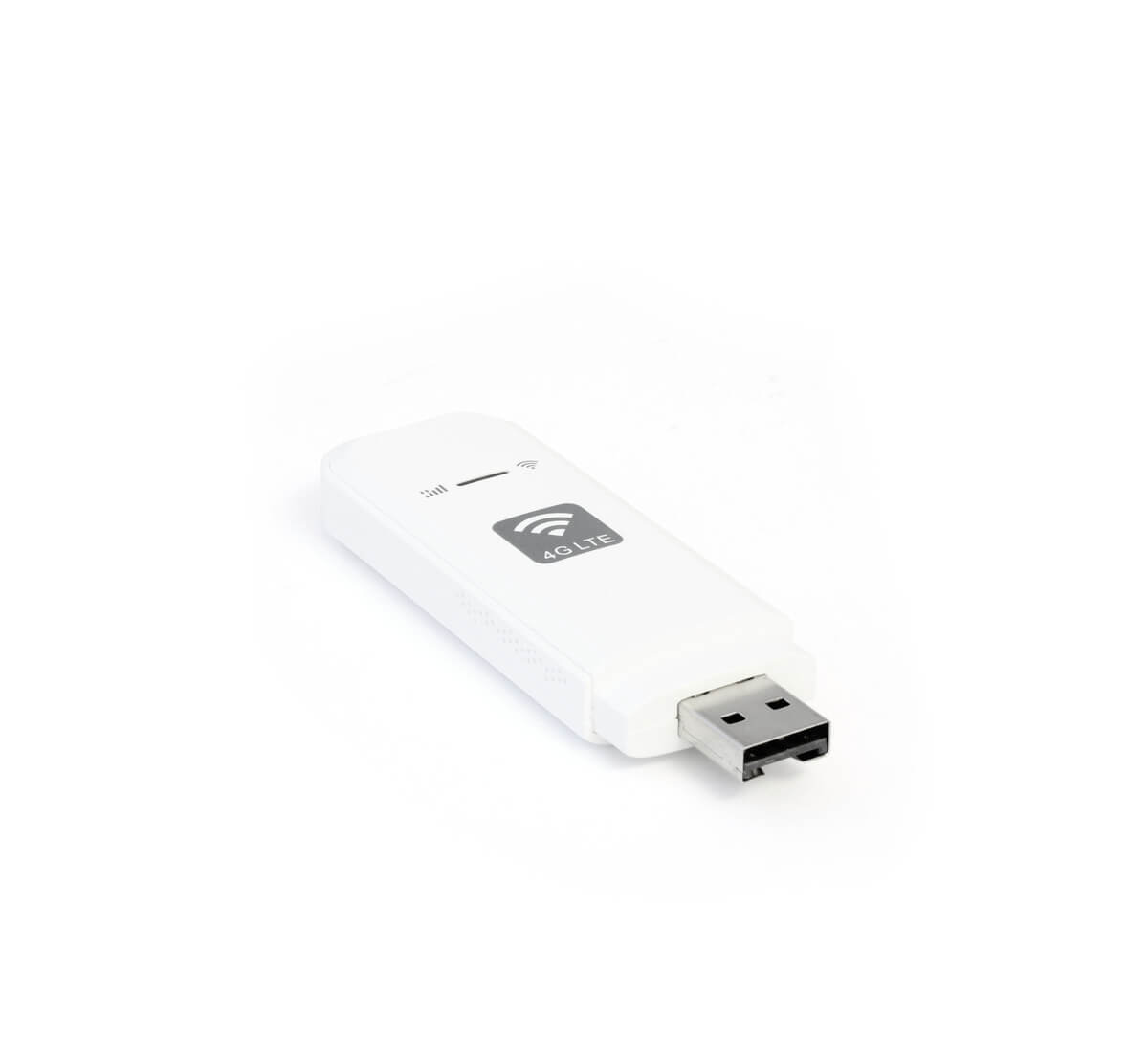 PLUG & PLAY
Add your SIM & configure your CANedge2 with the hotspot name/pass
ON-THE-ROAD
Transfer CAN data via 3G/4G from vehicles while on-the-road
SMALL & EASY
Power e.g. via the CANedge2 2nd port using a DB9-DB9/USB adapter
CONSISTENCY
Avoid dealing with WLAN firewalls & ports at e.g. client end user sites
1-10 DEVICES
Connect up to 10 devices for optimal data plan use
UNLOCKED
Simply add your own SIM card with your preferred data plan
About the USB WiFi router
The cellular USB WiFi hotspot is a simple way to provide your CANedge2 WiFi CAN logger with a 3G/4G access point. Insert your SIM card, add the SSID/password in the CANedge2 config - and power the hotspot.
The hotspot can be powered via any standard USB power supply (e.g. in a vehicle) or it can be optionally powered via the CANedge2 2nd port via the DB9-DB9/USB adapter.
use cases
setup guide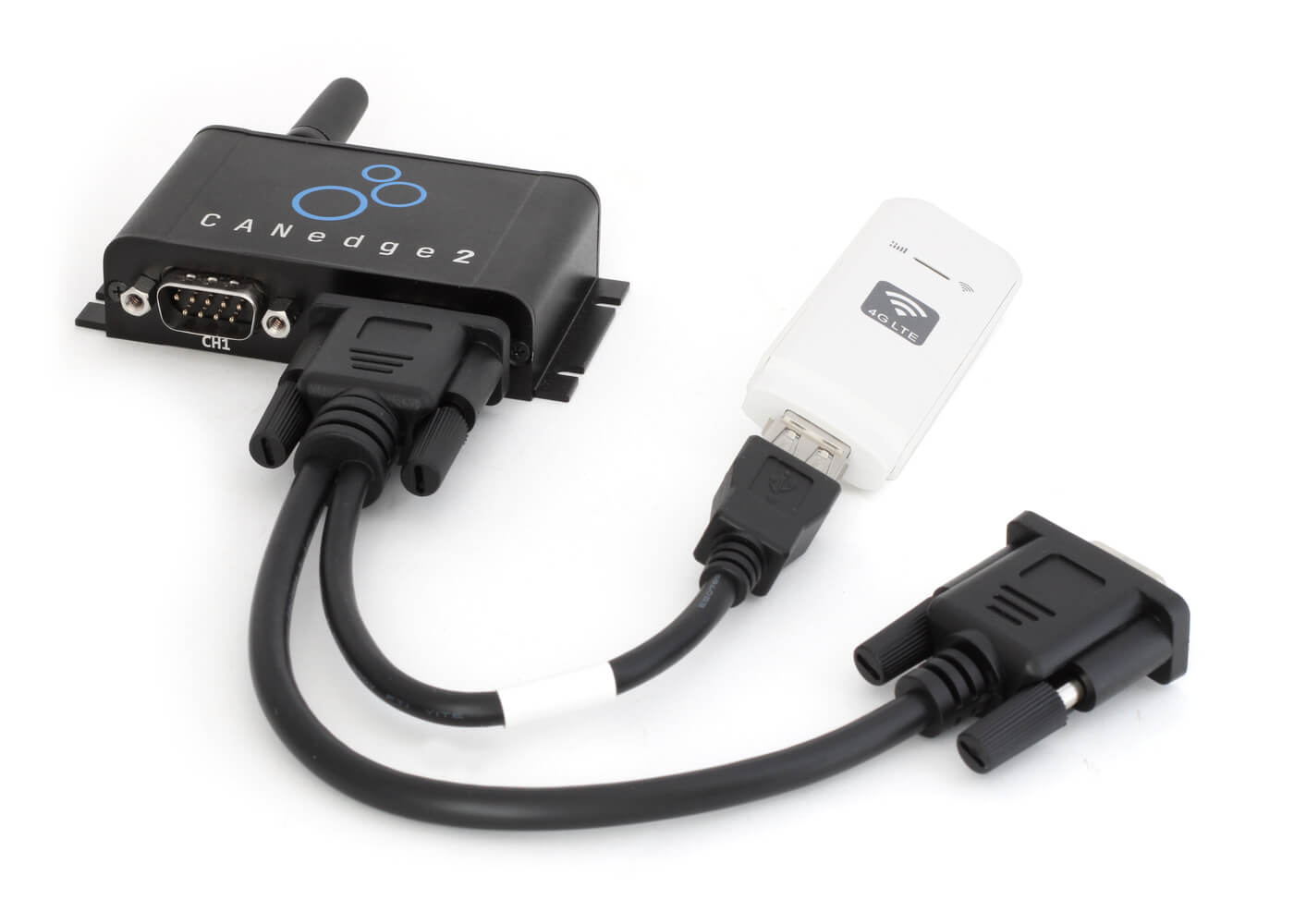 The USB hotspot we offer is manufacturer by a 3rd party provider. We have selected this based on good feedback from users across 30+ countries and generally the compatibility with various SIM card providers is good. However, there are some providers that are not compatible (see e.g. our note below for US users). We therefore recommend that you test the hotspot for your specific use case and with your provider to ensure that it is suitable for your requirements. In particular, we recommend testing this well in advance before you are to deploy the devices in the field, in case there is an issue with compatibility. For technical support on the hotspot you can contact us, though for advanced technical questions we may refer to the 3rd party manufacturer support.
If you prefer, you can of course source another 3G/4G WiFi router - e.g. a local one or one provided directly from your SIM card service provider. The important thing in this regard is to ensure that you're getting a 'router' (supporting multiple connected devices), rather than a 'modem'. If any questions let us know.
We recommend Soracom as data provider in USA/Canada if using this hotspot (we are not affiliated). US/CA users report good experiences using Soracom SIMs, while some have been unable to use T-mobile/AT&T.
You can order a SIM from their site - see also their intro docs.
To get started, see our step-by-step guide for setting up the hotspot.
Note that soracom.io SIM cards are relatively expensive if you aim to transfer large volumes of data. For such use cases, you can consider alternative providers - e.g. Speedtalk or Verizon flat-rate subscriptions. In the case of Verizon, we recommend getting a Verizon-certified router, e.g. the RUT240.
The current 3G/4G router firmware (4.2) has a bug that causes TLS transfer to not work properly. As such, the router can be used without issues when TLS is disabled in the CANedge2, but if TLS is required for your use case we recommend instead using an alternative cellular WiFi router (e.g. a RUT240). If any questions regarding this, please contact us.
The 3G/4G USB hotspot we offer is a simple-to-use, compact and low cost option. For some use cases, however, you may prefer a more high-spec 3G/4G router with additional features and performance.
Other users have successfully used e.g. the below routers:
AirLink LX40: E.g. used in fleet J1939 telematics with Verizon SIM cards in USA
RUT240: E.g. used with Soracom SIM cards as a global medium-cost high-spec option
Check out our tech specs, use cases or FAQ - or buy now!
Note: Check the bands used by your data plan provider vs. the below. If your region/bands are not covered contact us.
WIFI
Frequency Scope (US/CA Config)
FDD-LTE: B2/B4/B5/B7, UMTS: B2/B4
Frequency Scope (EU Config)
FDD-LTE: B1/B3/B7/B8/B20, UMTS: B1/B8
No. of WiFi Connections
10
WiFi Security Mode
Open, WPA-PSK, WPA2-PSK
Data Rate
FDD-LTE: UL 50M / DL 100Mbps
TDD-LTE: UL 17M / DL 68Mbps
DC-HSPA+: UL 5.76M / DL 42Mbps
HSPA+: UL 5.76Mbps / DL 14.4Mbps
HSPA: UL 5.76Mbps / DL 7.2Mbps
UMTS: UL / DL 384Kbps
WiFi Frequency
2412MHz-2472MHz
Network Type
FDD-LTE, TDD-LTE, DC-HSPA+,HSPA+, HSPA,UMTS
GENERAL
Size
8.2 x 2.6 x 0.8 cm
Weight
16 g
Form
USB stick
Color
The color may vary (black or white)
Installation
Plug & play - no CD/installation required
SIM card
Nano SIM card (as in most smartphones)
Antenna
Built-in 3G/4G & WIFI antenna
WIFI antenna gain: -1 dbi (3G/4G: -1.5 dbi)
Power
Powered via USB - e.g. in your vehicle
Voltage: 5V, Power Consumption: <3W
Working temperature
-10 to 45 degC (storage: -20 to 75 degC)
Certifications
CE/RoHS
Below we list some typical use cases for a 3G/4G USB hotspot:
Vehicle telematics
For fleet management, the hotspot can be powered via the CANedge2 for near real-time data upload. If the vehicle enters zero-coverage, no data is lost as it is buffered on the SD. Transfer costs can be minimized via filters, compression & triggers.
Remote locations
Some CAN equipment is stationary in remote areas with no local WLAN router. Here, the cellular hotspot provides a solution - and enables continuous monitoring of the assets. Examples include power grids, charging stations, construction sites and more.
Remote machinery monitoring
The CANedge2 can be used as an IIoT device for predicting machine breakdowns at sites and for remote troubleshooting. However you may be unable to use the on-site WLAN router. Here a 3G/4G hotspot can be used - and shared by up to 10 devices.
We have examples of customers that have purchased the USB hotspots in one country and added SIM cards from that country, then sent those hotspots to another country for deployment. This can be done, but you will typically need to modify the APN settings to ensure they are set up correctly. Example cases include using a T-mobile SIM card from Germany in UK, using the username 't-mobile' and the APN 'internet.t-d1-de'.
There are a number of data streaming devices on the market with built-in SIM card support. However, we've not done this in the CANedge2 for couple of reasons:
Costs: Integrating cellular in the device would add costs and complexity - resulting in higher prices and/or subscription fees.
Modular: Not all users need cellular WiFi - we aim to keep the device "modular" so that you only pay for what you need
Identical: The CANedge2 can connect to a cellular hotspot, which is in practice identical to integrating it
In addition, the WiFi module provides flexibility: If you do not wish to connect via cellular, you don't have to. Also, if you want to have multiple CAN loggers use the same hotspot (to optimize costs), you can.
No, this cellular hotspot works as a WiFi router itself - supporting up to 10 devices.
With a CANedge2 you can achieve near real-time upload when constant connectivity is available. You can e.g. configure log files to be split every 10 seconds, thus controlling your upload frequency - though we recommend less frequent intervals to optimize overhead. On your server, you can use the free APIs to auto-process the incoming data.
As a start, we cover these regions across two variants of the cellular hotspot. For some regions, the coverage provided by the frequency bands of one of these configurations may match - we suggest you check the coverage provided by your preferred local data plan provider.
If you're looking for specific configurations with other frequency bands, please contact us and we'll look into this.
Not yet. Currently, we recommend that our users identify the best local data plan to suit their needs.
Yes, you can connect up to 10 devices to the same hotspot.
Not necessarily. Many providers offer semi flat rate solutions or capped transfer speeds. While the offers vary by country, examples exist where your download speed may be capped after a certain usage - but where your upload speed stays the same. Some flat rate payments also cap your upload speed after a certain bandwidth usage - but even at reduced speed, the hotspot solution may work just fine for your purposes.
In addition, you can set up data filters, compression and prescaling to reduce the bandwidth usage significantly.
---