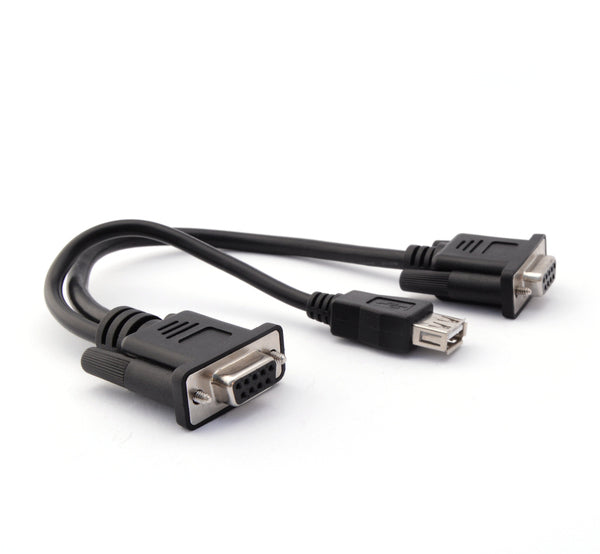 EASY 3G/4G
Power a USB 3G/4G hotspot via the CANedge2 2nd port connector
MODULES
Easily connect a CANmod module along with a USB hotspot
2X CAN/LIN
Easily log 2 x CAN/LIN while powering a USB hotspot
FLEXIBLE
The cable enables flexible installation in e.g. mounting brackets
OVERMOLDED
Overmold quality adapter cable with 22 AWG (0.5 mm2) thickness
SOLID LOCKS
DB9 screw locks ensure a solid connection
About the DB9-DB9/USB
The CANedge2 provides a configurable 5V power output via the 2nd port. This adapter lets you use this to easily power a 3G/4G USB WiFi router via this 5V output - simplifying cellular deployment use cases.
Additionally, the adapter provides an open DB9 female connector, making it easy to connect a CANmod sensor-to-CAN module. The cable provides a 5V power supply for the CANmod - while enabling the CAN communication from the CANmod to be recorded by the CANedge2 via the 2nd port.
You can of course easily combine this adapter with our DB9-DB9/DB9 Y-splitter to e.g. daisy chain CANmod modules.
Note: The connection to the USB adapter purely provides power and ground for the USB hotspot (the CANedge2 connects to the 3G/4G router via WiFi, not through the cable).
use cases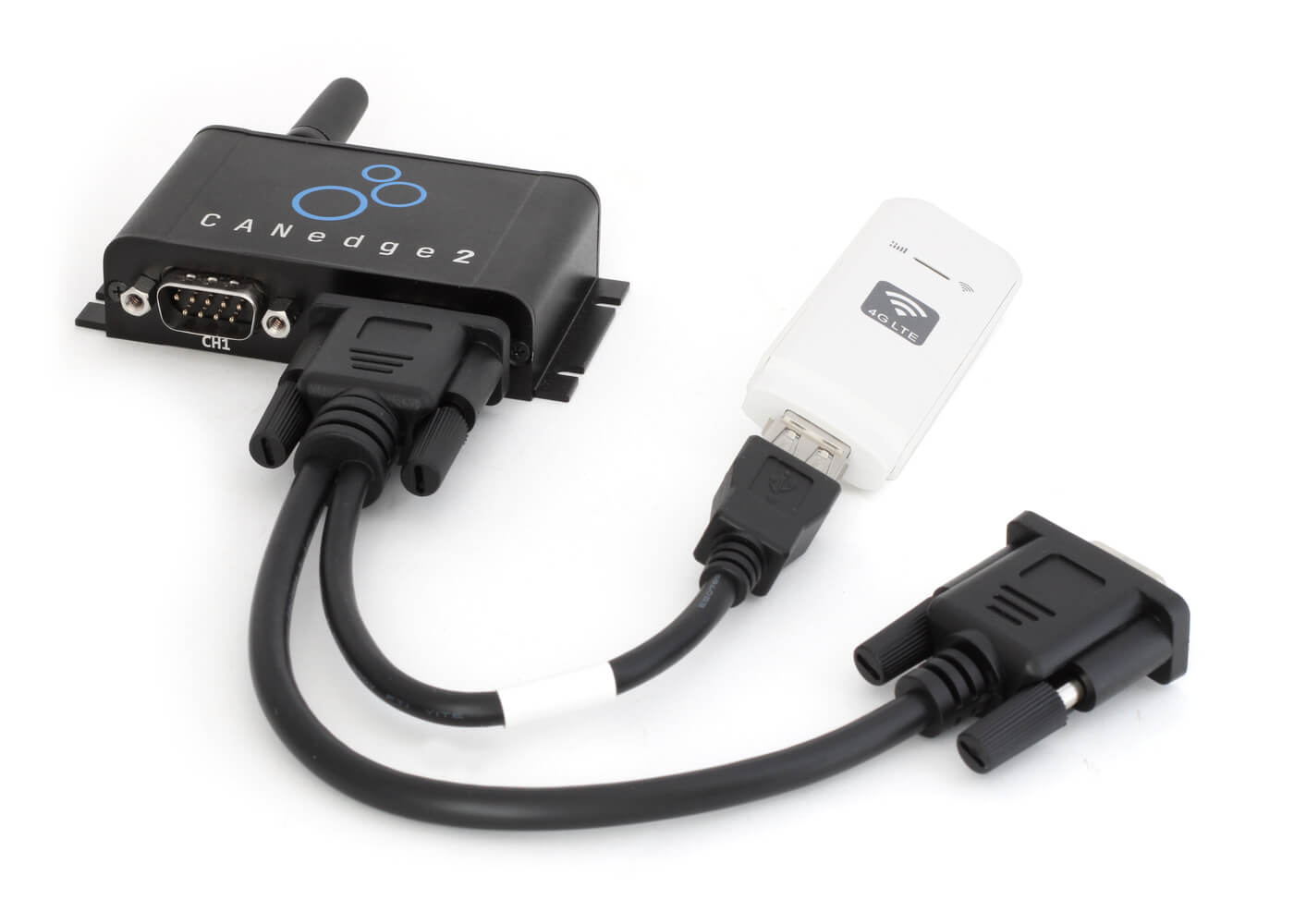 Check out our tech specs, use cases or FAQ - or buy now!
| GENERAL | |
| --- | --- |
| Power supply | The CANedge2 provides a configurable fixed 5V supply output |
| Adapter Cable Length | 20 cm per split cable (incl. connector heads) |
| Cable Thickness | 22 AWG (0.50 mm2) |
| Connectors | 9-pin D-sub (DB9) female to 9-pin D-sub (DB9) female and USB A female |
| Temperature | Operating temperature: -20degC to +80degC |
| Weight | 60G |
Adapter pinout
DB9
(female 1)
Function
DB9
(female 2)
USB A
(female)
1
VCC (Power)
1
USB pin 1
2
CAN-L
2
3
GND
3
USB pin 4
4
4
N/C
5
N/C
N/C
6
GND (optional)
6
USB pin 4
7
CAN-H
7
N/C
8
N/C
N/C
9
9
N/C
Below are some examples where a DB9-DB9/USB adapter can be useful - see also the CANedge2 or DB9-DB9/USB:
On-road telematics with CAN + GNSS/IMU data
Need to upload CAN bus and GNSS/IMU data via 3G/4G?
The CANedge2 can upload data while on-the-road using e.g. a 3G/4G USB router. You can power the 3G/4G hotspot from the vehicle - or use our DB9-DB9/USB adapter to power both the hotspot and CANmod.gps via the 2nd port of the CANedge2. The uploaded log files can e.g. be visualized in telematics dashboards. Ideal for e.g. OEM field testing, car fleet telematics, predictive maintenance and more.
Yes, any USB WiFi router that can operate at 5V DC can be powered by the 2nd port 5V output from the CANedge2 via this adapter.
Many sensor-to-CAN modules can be powered via 5V power supply - making it very easy to connect these to the CANedge2 2nd port. Our CANmod sensor modules are specifically designed to be plug & play with the CANedge by using this power supply (and a matching pin-out).
You can connect practically any 3rd party sensor module that broadcasts data via CAN bus, as long as the module can be powered via 5 V DC. Of course, you need to determine what pin-out the external sensor module uses and ensure that you connect it using a suitable adapter cable.
---