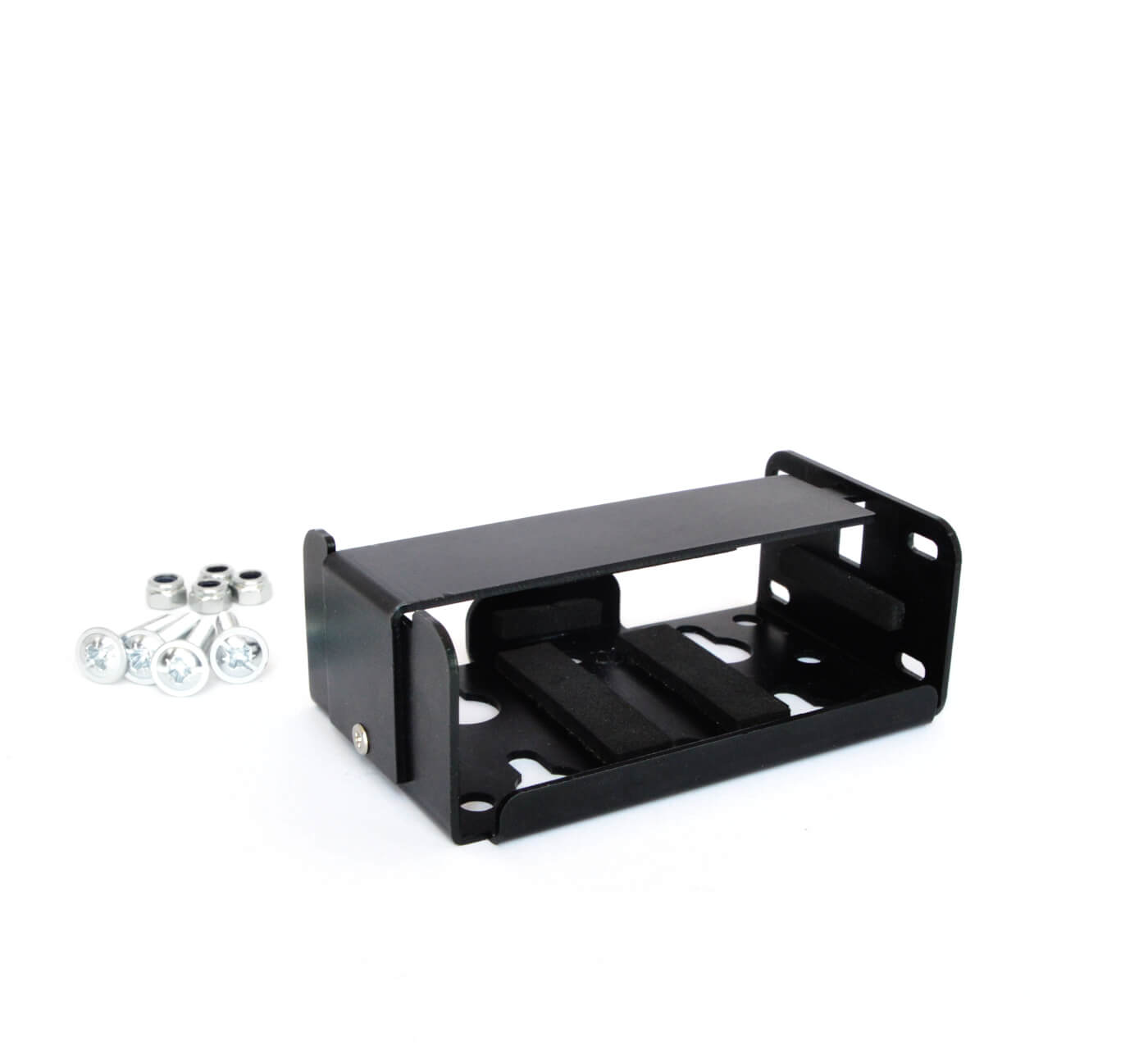 EASILY MOUNT
Easily mount your device via screws, zip ties or double-sided tape
COMPACT
Extremely compact (9 x 6 x 3 cm) and lightweight (40 G) aluminium bracket
EXTRACTABLE
Insert/extract device after mounting via flexible top cover
PADDING
Built-in EVA foam padding provides basic vibration resistance
PROTECT
Optionally use heavy-duty plastic pouch for light ingress protection
PRACTICAL
Fasten cables or 3G/4G hotspot via zip ties through bracket side slots
Check out our tech specs, use cases or FAQ - or buy now!
| GENERAL | |
| --- | --- |
| Dimensions | 89.4 x 57.6 x 32.0 mm (L x W x H) |
| Weight | 40G |
| Material | Black surface anodized aluminium |
| Screw holes | 8 x M4 (regular) + 4 x M4 (keyhole) |
| Padding | 3 mm EVA foam (top, bottom, sides) |
| Package contents | Bracket, 4 M4 22 mm screws + lock nuts, 4 zip ties (3.6 x 250 mm) |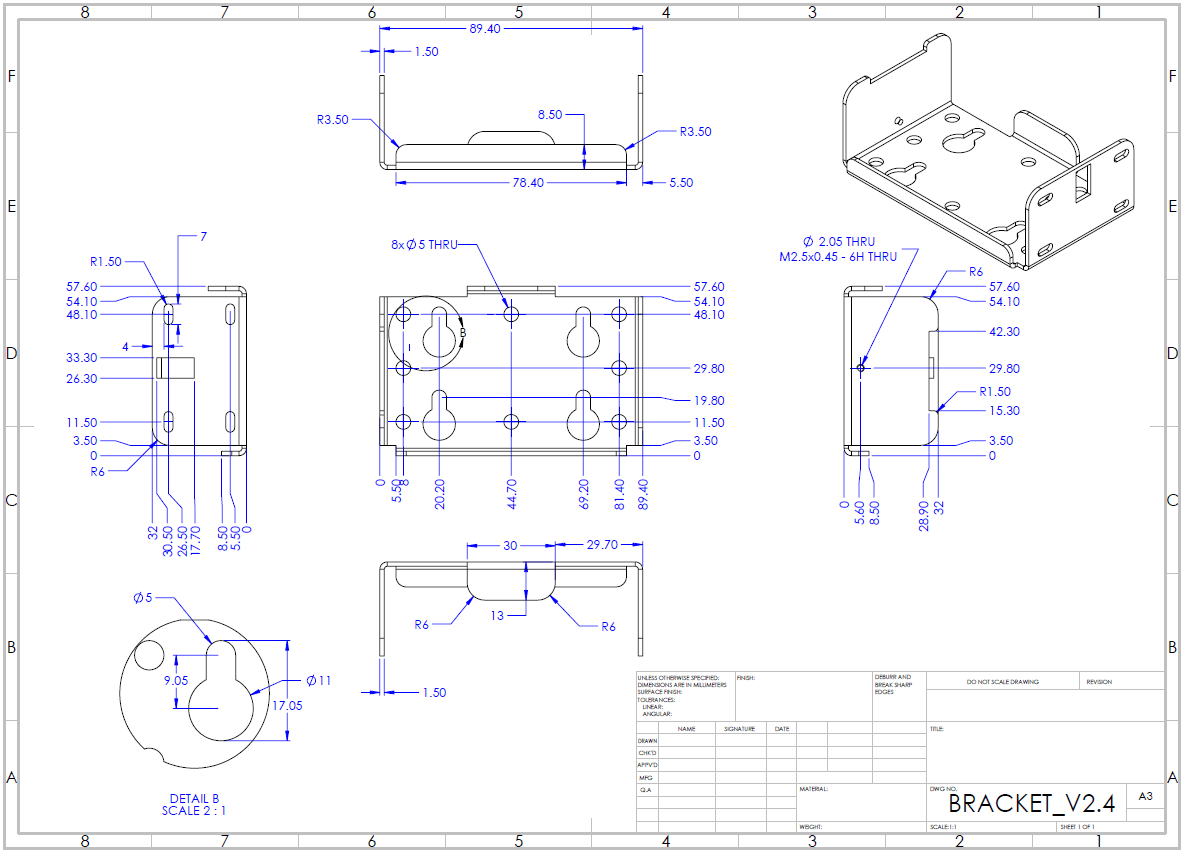 Below are some examples where the mounting bracket can be useful:
Vehicle telematics & fleet management
Need to install the CANedge across a fleet of vehicles?
For telematics applications, having a consistent and flexible way of installing the CANedge HW 00.02 can be vital. With the mounting bracket, you'll have multiple options for deploying the CANedge in e.g. trucks, cars, forklifts and other applications.
Industrial machine monitoring
Need to deploy your logger in a production setting?
When installing a CAN logger within production settings, it is vital that cables and clutter are kept under control. Here, the bracket can be used to securely install the CANedge against e.g. a machine surface or wall - while the cables can be 'locked' in place using the side slots of the bracket. For low vibration, indoor installations double sided tape can also provide a fast and non-invasive installation method.
Yes. The bracket includes keyhole slots for screws. This means that you can add the screws to your installation surface prior to adding the mounting bracket. In this case, the bracket can be installed with the CANedge inserted and the top cover locked.
Optionally, you can in such a case add an extra screw above the mounting bracket to securely "lock" the bracket in the intended position after installation.
For many use cases, heavy duty double-sided tape (e.g. from 3M) will be a simple and secure method of installation. This type of tape is typically intended to hold up several kg of weight - and the mounting bracket + CANedge will weigh less than 150 G in total.
However, we always recommend that you consider the specific context that you install the device in. For example, installations in settings with vibration, humidity or other factors may result in double sided tape not being an adequate solution.
For some use cases, the CANedge may be exposed to some level of dust ingress. Here, the plastic pouch can provide basic protection if installed in a suitable way based on your environment.
Note that the plastic pouch should not be seen as having formal impact on the IP rating of the CANedge. Rather, it can serve as supplementary protection for some scenarios.
Note also that in environments with significant humidity, temperature fluctuations or water splash exposure, a formal IP65-IP67 installation is recommended - e.g. an electrical junction box.
The mounting bracket has basic vibration resistance due to the built-in EVA foam padding. However, you should always evaluate the level of vibration in your target installation environment. If in doubt, we recommend that you install the bracket using anti-vibration screws (aka rubber mounts, shock absorber screws, ...)
The CANedge is used in a large variety of use cases. While mounting flanges could make sense for some use cases, we believe a separate mounting bracket increases flexibility. For example, built-in screw holes would imply that you'd have to use tooling to remove the CANedge from the installation surface when you temporarily wish to collect the device. Here, the separate bracket offers more flexibility - while remaining extremely compact and light-weight.
---