OBD2 Data Pack [PDF, DBC Files & Sample Data]
Join our newsletter to get your 'OBD2 data pack'!
The package contains the following:
Our OBD2 intro + OBD2 logger guides [PDF]
The OBD2 DBC file [150+ PIDs]
25+ car DBC files (reverse engineered)
100+ MB of OBD2 log files across 10+ cars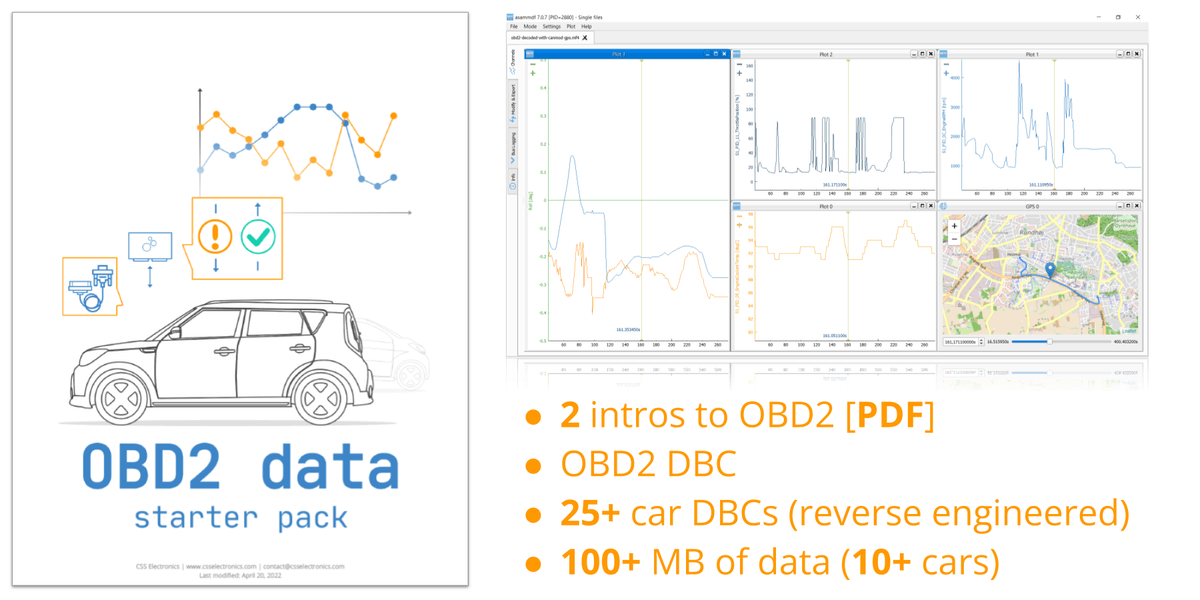 All the log files are recorded with our CANedge CAN bus data logger in the MF4 log file format. The data can thus be opened in the various free & open source data processing software/API tools that you can use with the CANedge.
Tools like asammdf, our Python API and dashboard integrations let you load the log file samples along with the relevant DBC file(s) to decode the data and e.g. visualize it.
The pack includes log file data from the following cars:
2015 Chevrolet Tahoe
Audi 2011 Q7
BMW
eGolf
Isuzu
Mercedes E350 2010
Renault Zoe
SEAT Leon (incl. CANmod.gps data)
Skoda Octavia
Toyota Wish 2013
Van (extended CAN IDs)
The DBC files included in the package are collected from various online resources, incl. e.g. the opendbc gihtub database. Since the data is reverse engineered, there is no guarantee that a given DBC file will work for the vehicle brand in question or be valid - this requires practical tests to determine. However, in our experience many such DBC files provide useful information and serve as a good starting point and supplement to OBD2 data logging.
Below are some of the car brands included:
Acura
BMW
Cadillac
Chrysler
Ford
GM
Honda
Hyundai
Luxgen
Mazda
Mercedes
Nissan
Renault Zoe
Stellantis
Subaru
Tesla
Toyota
Volvo
VW