Automotive Blackbox CAN Data Logger with SD [J1939, OBD2]
Need a vehicle blackbox for your CAN bus application?
In this guide we outline how to use the CANedge CAN bus data logger as an blackbox for storing months (or even years) of data from your vehicles or machines.
Top 4 benefits of a blackbox CAN logger
The companies we work with quote the below 4 key benefits of black box CAN logging:
Warranty & claim optimization
A key challenge for OEMs is warranty claims. The CAN bus data from a black box can prove e.g. incorrect usage by the end customer to reduce costs
Rare issue diagnostics
Rare issues in vehicles or machines are difficult to troubleshoot. This can be solved by installing a black box to log data before/after the event for analysis
Real prototype usage data
A compact, hidden CAN logger can be used to record real-life usage data of e.g. vehicle prototype parts to help R&D optimize their development cycle
Legal & driver compliance
Black box logging can help simplify legal compliance (e.g. emissions reports, driver patterns) - as well as incentivize drivers to improve their behavior
Which benefits are relevant to your blackbox use case? Reach out for free sparring!
Contact us
---
The CANedge blackbox data logger
The CANedge CAN bus data logger offers optional GPS/IMU, WiFi and/or 3G/4G - ideal for automotive blackbox logging:
PLUG & PLAY
Log data out-the-box. Standalone. Link your vehicle to your server in <2 minutes
PRO SPECS
Extractable 8-32 GB SD. 2xCAN/LIN. CAN FD. Zero data loss. 50 µs RTC. Error frames. MF4
COMPACT
Only 8 x 5 x 2 CM. 100G. Robust alu enclosure. 5+ LEDs. Configurable 5V power out (CH2)
WIFI/LTE
Push data via WiFi or 3G/4G to your server. E2E security. OTA updates
GNSS + 3D IMU
Built-in GPS/IMU. 3x accuracy via sensor fusion. Position, speed, distance & more
INTEROPERABLE
Free open source software/APIs. MF4 to ASC/CSV. DBC support. Python. Dashboards
learn more
The CANedge has a number of features particularly relevant to black box logging:
Compact & standalone
The CANedge is an extremely compact and 100% standalone device. It's typically powered via your CAN bus connector, providing a simple plug & play installation - and ensuring that no separate power source, PC or similar equipment is required. This also lets you easily hide the device behind e.g. a panel in case it should stay incognito.
Pro specs
When logging data for e.g. rare issue diagnostics, it's critical that no data is lost. This requires that the device is able to - in some cases - log several thousand frames per second and handling drastic data bursts. The CANedge is optimized for this type of challenge with lossless logging at full bus load and 50 microsecond timestamp resolution.
Cyclic logging
Cycling logging means that the CANedge is able to overwrite the oldest files in case the SD card is full - allowing it to continue logging data indefinitely. In other words, you'll always be able to extract the most recent 8-32 GB worth of data from the device.
Compression
Compression is powerful when it comes to blackbox logging as it effectively reduces the data size by 50-70%. In other words, a 32 GB SD card will in practice be able to store 64 GB worth of data.
Encryption
If you're e.g. installing the CANedge as a blackbox for evaluating driver behavior, you're operating with person-sensitive data. With the rise of CCPA and GDPR, it's increasingly required that this data is encrypted on the SD card - which is a unique feature of the CANedge
Advanced filters
The CANedge supports advanced message filters, e.g. letting you accept/reject specific messages based on ranges/masks - as well as "prescale" specific messages (to e.g. only record every 5th observation).
Triggers
With the CANedge, you can turn on/off logging of data using triggers - either based on the presence of CAN IDs, or specific data byte min/max thresholds.
Power safe
The CANedge is 100% power safe, meaning that the device can be disconnected (or the power to the device can be cut) at any time with no data loss or corruption.
This article takes outset in the CANedge1 since most often you'll want the lowest cost solution for black box logging. However, if you need to collect data from several devices frequently in the field, it may worth considering the CANedge2 with WiFi or the CANedge3 with 3G/4G.
The CANedge2/CANedge3 lets you auto-push log files to your own server, automating data collection and enabling over-the-air updates. You can learn more about the various CANedge options on our products page.
The CANedge is a versatile data logger, letting you record data from 2x CAN buses (incl. CAN FD) and 2x LIN buses in parallel. This means you're also able to log any CAN based protocol and thus use the CANedge as a J1939 black box, CANopen black box, OBD2 black box etc.
In terms of applications, this translates to a large number of assets. Practically any automotive today is CAN based, meaning cars, trucks, transit buses, scooters, motorcycles etc. But CAN is also generally used in e.g. production machinery, ships, aeroplanes, robotics, medical equipment and much more.
The CANedge lets you record the full set of raw CAN data from your application. This data will typically involve any data being used actively by the vehicle/machine. For e.g. automotives, this often includes speed, RPM, temperatures, pressures, fuel usage etc.
Note that to decode your data you'll need a DBC file (CAN database). If you're the manufacturer (OEM), you'll typically have this. The same goes if you're logging OBD2 data in which case you can use our free OBD2 DBC - or if you're logging heavy-duty vehicle data, in which case you can purchase our J1939 DBC file. For other cases, the DBC file is typically proprietary and decoding may be more of a challenge, though you can sometimes find information in online databases or by reverse engineering the CAN bus.
A vehicle blackbox can be used as part of an effort to personalize e.g. car insurance. This often involves the use of an OBD blackbox, which records information regarding the driver's behavior and adjusts the vehicle insurance policy based on whether the driver is e.g. speeding excessively.
In principle, this type of use case can be achieved via the CANedge2 with WiFi, although for private car insurance it might not be the ideal fit for an OBD2 blackbox. However, for more specialized vehicles such as heavy-duty comemrcial trucks, mobile cranes etc. the CANedge2 can be an ideal blackbox solution. Specialized vehicles like these typically utilize the J1939 protocol or fully proprietary CAN bus protocols, meaning that standardized OBD2 bluetooth dongles will not be useful as insurance blackboxes. Further, the CANedge2 is ideal for use in such vehicles that often operate inside/outside connectivity areas, meaning data has to be buffered in some periods on an SD card - and then later pushed to a central server.
For similar reasons, the CANedge2 is ideal for OEM warranty dispute handling, in particular for automotive OEMs. For sparring on this area, feel free to contact us.
Case study: CAN diagnostics
Learn how JCB Deutschland uses the CANedge1 to collect field data for use in CAN bus diagnostics and dispute handling - for example to solve intermittent issues.
"The CANedge1 really helps us pin-point issues which can't be identified with built-in machine diagnostics - and there's very good and quick support if help is needed!"
j1939 logger intro
50+ case studies
How does it work?
The CANedge logs data out-the-box - simply connect it to your application to log raw CAN data to the SD card.
#1 Configure your device
You can optimize your logging by changing the device configuration. This is done by editing a JSON config file on the SD card - e.g. via the simple editor.
For example, you can enable cyclic logging, add filters, prescalers, compression, encryption and start/stop triggers.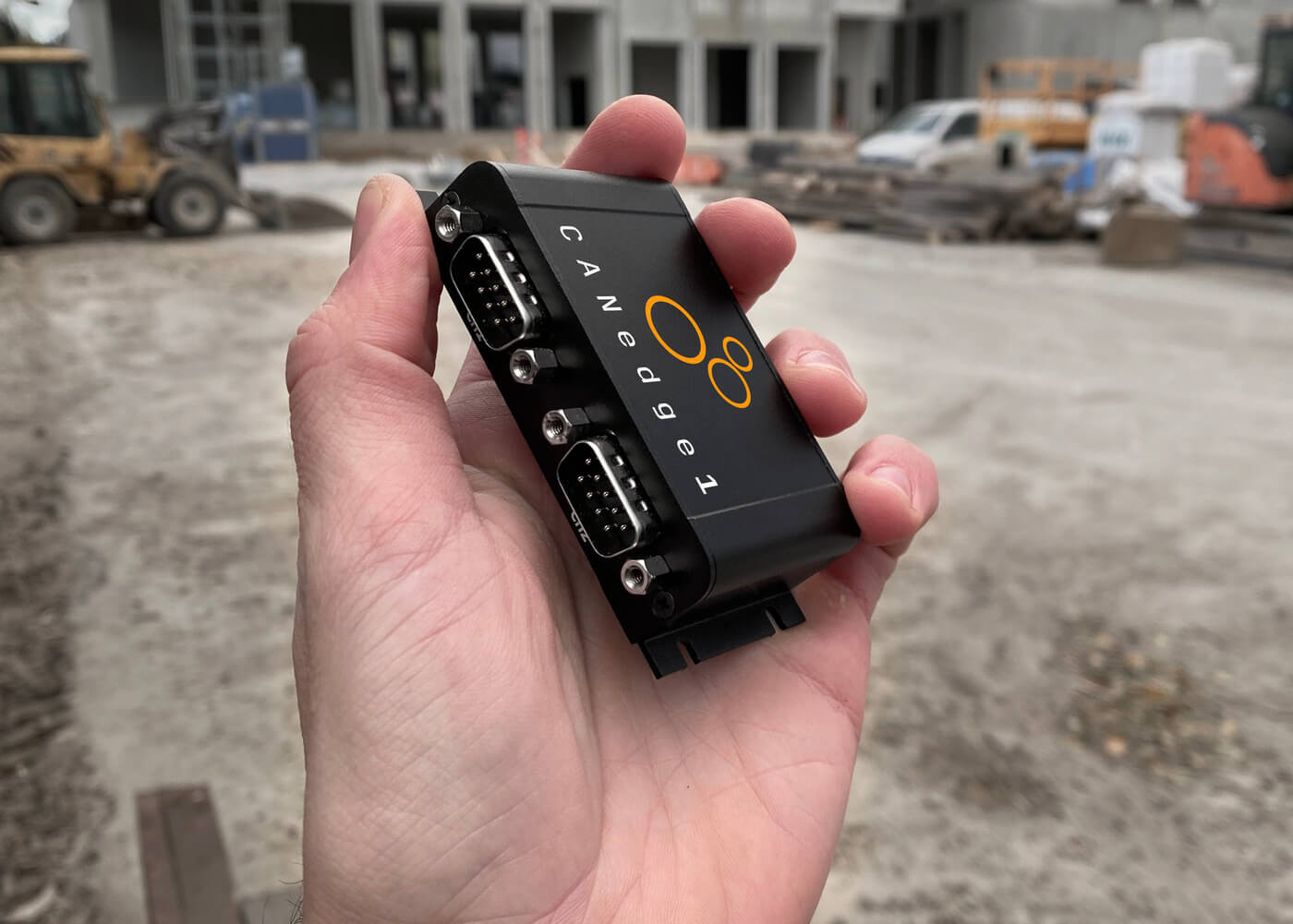 #2 Install the device
To install the device you will typically use a DB9-adapter cable (see our products page).
Next, simply connect the CANedge to your application. LEDs indicate the device status, making it easy to install in the field.
#3 Extract & process your data
To process your black box CAN logger data, simply extract the SD card, insert it into your PC and copy the data.
With a CANedge2, you can also auto-push the data via WiFi to your own server.
You can process the data via 100% free software/API tools:
Software/API tools
Need a blackbox CAN logger for your assets?
Get your CANedge today!
---
Recommended for you