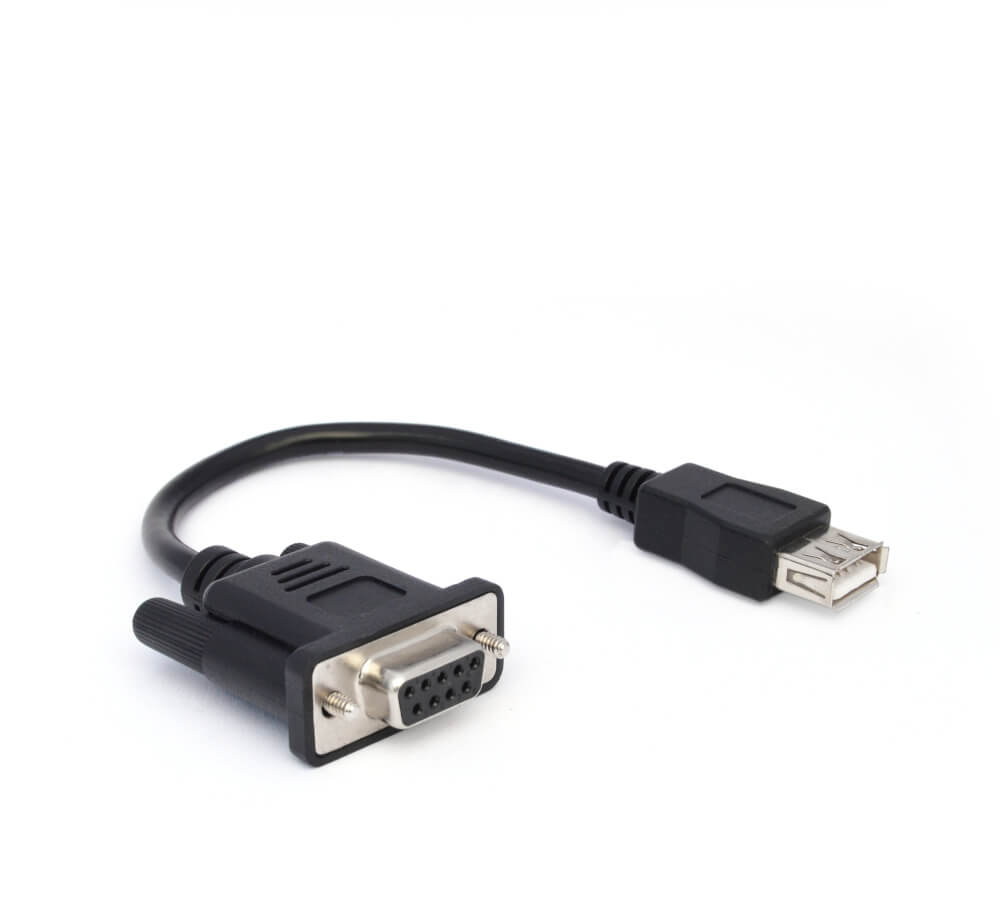 EASY 3G/4G
Power a USB 3G/4G hotspot via the CANedge2 2nd port connector
COMBINE
Combine with DB9-Y-splitter to also log data via the 2nd port
OTA CONTROL
Turn the 5V output on/off over-the-air - e.g. to toggle warning lamp
EXTEND
Use DB9-extension cable to position 3G/4G hotspot for better signal
OVERMOLDED
Overmold quality adapter cable with 22 AWG (0.5 mm2) thickness
SOLID LOCKS
DB9 screw locks ensure a solid connection
About the DB9-USB adapter
The adapter lets you power a 3G/4G hotspot with the CANedge2 - with no need for a separate USB power supply.
The CANedge2 can be pre-configured with the name/password of the 3G/4G USB hotspot, enabling the device to push log files to your server via 3G/4G.
Note: The adapter simply parses power to the hotspot - the CANedge2 connects to the 3G/4G router via WiFi.
use cases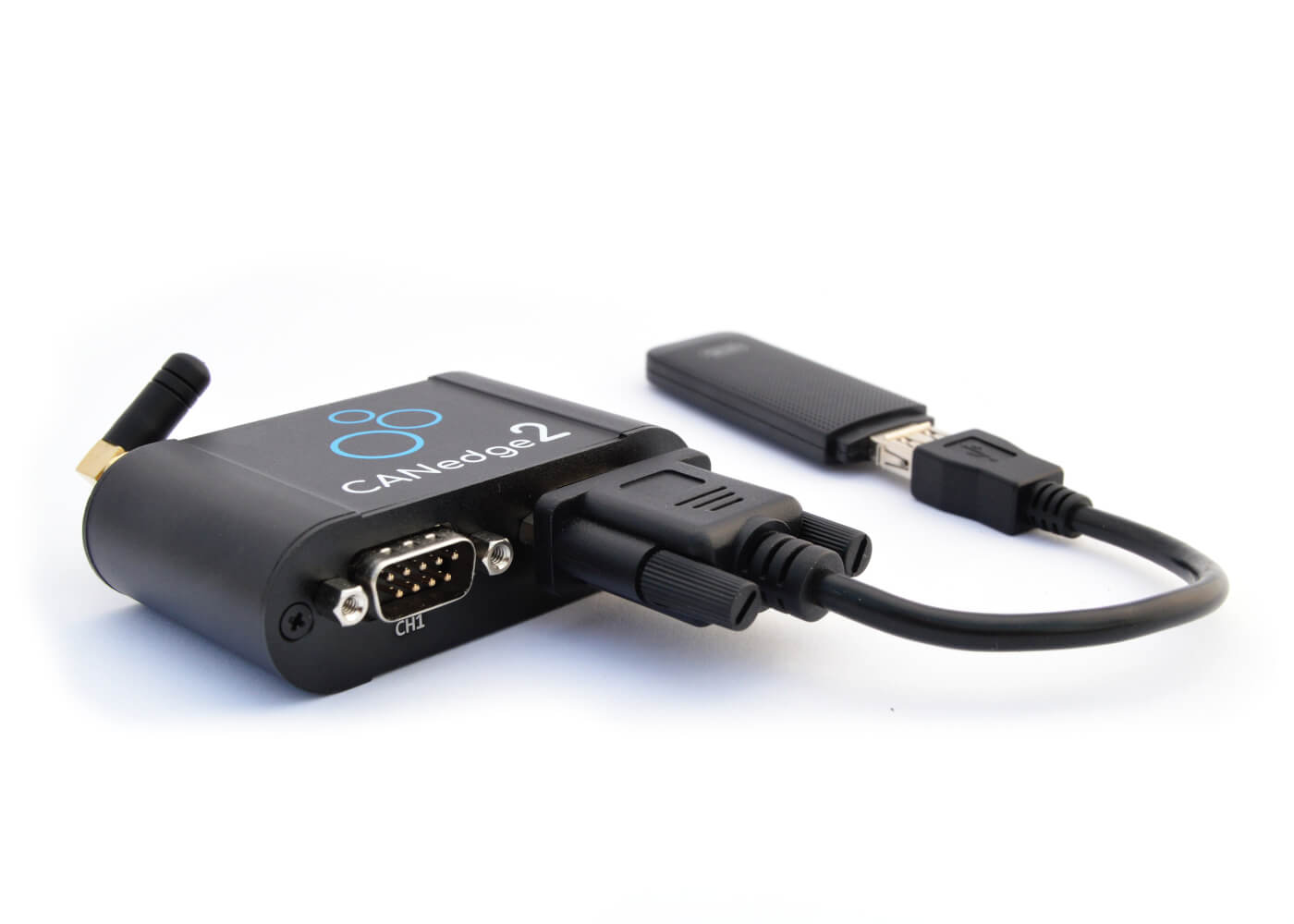 Check out our tech specs, use cases or FAQ - or buy now!
| GENERAL | |
| --- | --- |
| Power supply | The CANedge2 provides a configurable fixed 5V supply output |
| Adapter Cable Length | 20 cm |
| Cable Thickness | 22 AWG (0.50 mm2) |
| Connectors | 9-pin D-sub (DB9) female to USB A female |
| Temperature | Operating temperature: -20degC to +80degC |
| Weight | 40G |
Adapter pinout
| | | |
| --- | --- | --- |
| DB9 (female) | Function | USB A (female) |
| 1 | VCC (Power) | USB pin 1 |
| 2 | | N/C |
| 3 | GND | USB pin 4 |
| 4 | | N/C |
| 5 | | N/C |
| 6 | GND (optional) | USB pin 4 |
| 7 | | N/C |
| 8 | | N/C |
| 9 | | N/C |
Below are some examples where a DB9-USB adapter can be useful:
Vehicle telematics & fleet management
Need to log data from a fleet of on-road vehicles?
A 3G/4G hotspot lets the CANedge2 upload data in near real-time from vehicles on the road. Here, the DB9-USB adapter eliminates the need for finding a separate power source for the USB hotspot for plug & play installation.
Visually spot problematic vehicles/machines
Managing a warehouse of forklifts or automated guided vehicles (AGVs)?
The DB9-USB adapter can also be used to power USB lamps. The lamp can be turned on/off via over-the-air updates (manually or programmatically). If an asset has issues (e.g. battery/temperature problems), you can auto-toggle the 2nd port power via over-the-air updates - allowing on-site staff to quickly identify the asset.
Share 3G/4G hotspots for reduced costs
Need to upload CAN data from a cluster of units?
If you need to log data from e.g. a remote production site with multiple CANedge2 units, you may be able to deploy a single 3G/4G hotspot and allow up to 10 CANedge2 units to transfer data through this. The single 3G/4G hotspot can be powered by one of the CANedge2 units. This typically cuts costs drastically as cellular subscriptions are often designed with high data ceilings, but fixed minimum fees per SIM card.
Extend hotspot for improved connectivity
Need to improve the signal of your 3G/4G hotspot?
In heavy duty vehicles, the CANedge2 is often installed in a shielded location. However, shielding the 3G/4G hotspot may reduce signal strength. Here, the DB9-USB adapter lets you use e.g. a DB9-DB9 extension cable to position the hotspot separately from the logger. If the CANedge2 is in WiFi isolation, you can also extend the antenna to move it near the USB 3G/4G hotspot.
Yes, you simply split the connection.
To do so, you can use a DB9-Y-splitter, allowing you to connect both the DB9-USB adapter and e.g. a DB9-J1939 adapter or DB9-OBD2 adapter.
Note that input power should not be supplied to the CANedge2 via channel 2. To avoid this in such a setup, you may need to add a DB9 Power-Pin-Remover between the adapter cable and the DB9-Y-splitter.
Yes, the CANedge2 is designed to power up to 3 modules via the 2nd channel, assuming you provide input power and ground via both the mandatory and optional pins in the channel 1 connector (see the CANedge2 documentation for the connector pin-out). The use of the extra optional pins ensure that sufficient input supply is provided to enable the CANedge2 to power up to 3 modules. In some cases it may be possible to power more than one module without utilizing the optional pins.
To add additional DB9-USB adapters, you would typically utilize one or more DB9-Y-splitters.
The CANedge2 is a WiFi based CAN logger, meaning that it relies on access to an external WiFi hotspot (e.g. a WLAN router or 3G/4G hotspot). The WiFi module allows for 1-10 hotspots in prioritized order, enabling a versatile set of use cases - for example:
Switch between WLAN routers and 3G/4G dynamically: If the CANedge2 is periodically near a WLAN router (e.g. in a garage), this can be used to upload data without paying for cellular data transfer. Further, when the CANedge2 is away from the WLAN hotspots, it can shift back to the 3G/4G hotspot to ensure frequent data upload.
Share 3G/4G hotspots: Often SIM card subscriptions are designed with a high fee per SIM card, rather than per GB. Here, it may be beneficial to share a 3G/4G hotspot between multiple CANedge2 devices. In e.g. industrial automation setups you may have a cluster of CANedge2 units that can share a single 3G/4G hotspot, powered by one of the units
Low cost multi CAN channel clusters: Similarly, if you need to log data from e.g. 8 CAN channels in a single application you could combine 4 CANedge2 units and let them all leverage a single 3G/4G hotspot to optimize transfer costs
Extend the cable for improved signal: By externalizing the 3G/4G hotspot, it is possible to extend the adapter cable and move the hotspot e.g. outside a vehicle for improved signal strength. This can be done while keeping the CANedge2 separate (using a DB9 extension cable)
Since the hotspot is external, it can easily be exchanged to e.g. a 5G hotspot at a later stage
Further, the CANedge2 is built around a modular concept to allow for low costs. Not all use cases require a 3G/4G connection and adding the functionality inside the CANedge2 would significantly increase costs of the device.
---