Why use ChatGPT for your CAN data analysis?
---
How to enable Code Interpreter with GPT4
Below we outline how to set up GPT4 with Code Interpreter. Once done, you should see a small "+" button in your chat window:
---
How to prepare your CANedge CAN bus data for GPT4
With the CANedge software/APIs, you can follow one of the below methods:
For details on our data preparation and key considerations, see below.
Having prepared our CAN bus data, we now have a 'decoded_ev6_data.csv' file of ~110 MB - ready for ChatGPT!
Get the CSV in our 'EV data pack'
Want to try out ChatGPT with the EV6 data yourself?
Our 100% free EV data pack includes the full ~110 MB decoded EV6 CSV file used in this article!
The pack also includes the 1 GB of raw CAN data, configuration file and DBC file for the EV6 - and other popular electric cars like the Tesla Model 3, Nissan Leaf, Enyaq and more!
Get the data pack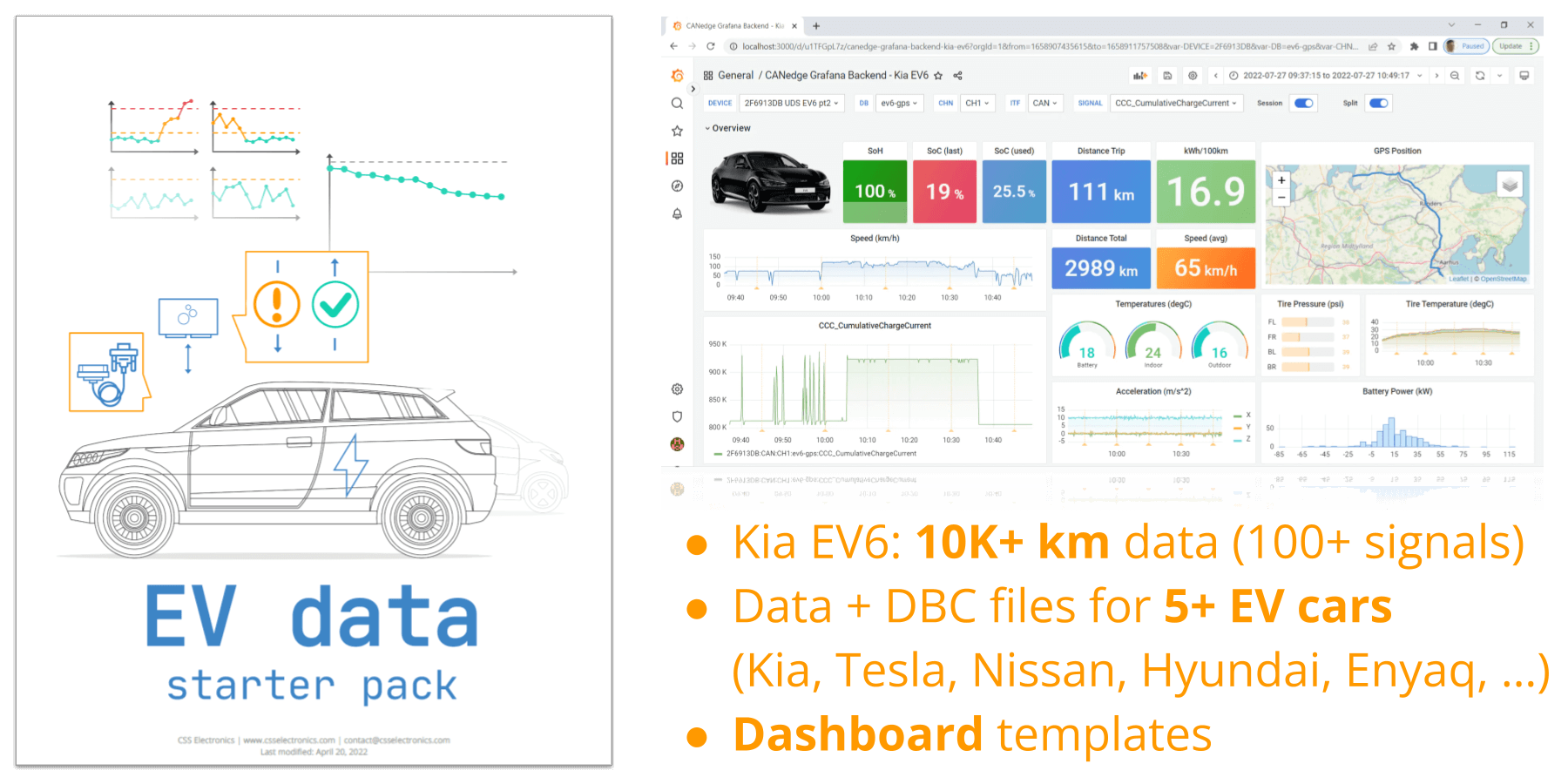 12 awesome show cases of GPT4 + CAN bus data
Now comes the fun part: Analysing the EV6 CAN bus data with GPT4!
We start by uploading the CSV to get a summary:
As evident, GPT4 uses Code Interpreter to perform a high level summary of the data. This is not rocket science, but it's great for getting a quick overview and spotting potential issues. Note that all Python code can be viewed via the 'Show work' tabs.
In the following sections, we go through 12 show cases of how you can use ChatGPT with Code Interpreter.
Example #1: Creating 10 insightful data visualisations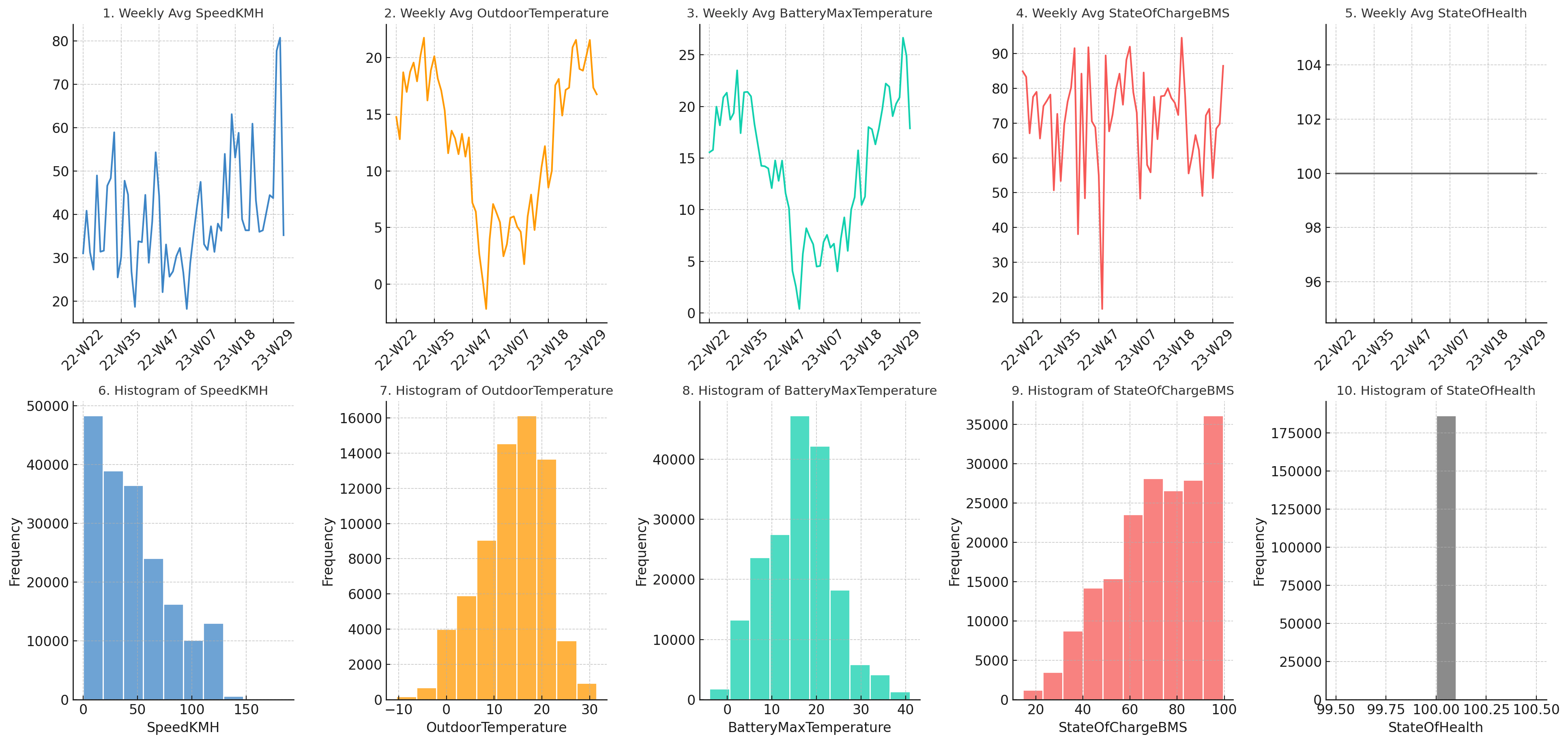 Result 2: ChatGPT produces exactly the plot we described in our prompt
Further, when prompting ChatGPT to provide 3 key takeaways it does a good job and e.g. highlights the relevant correlation between OutdoorTemperature and BatteryMaxTemperature (plots 2 and 3). It does, however, also hallucinate a bit as shown below.
Example #2: Calculating kWh/100km

Result: GPT4 correctly calculates the new BatterConsumption (kWh/100km) signal and creates 3 plots
---
Example #3: Identifying correlating drivers of battery consumption
3.2: Top 3 correlating signals
---
Example #4: Visualising parameter relations in 3D surface plots
---
Example #5: Creating geographical plots of the car's GPS data
Example #6: Identifying top 10 most frequently visited areas
Example #7: Visualising top 10 acceleration events
Example #8: Daily distribution of consumed State of Charge (SoC%)
---
Example #9: Plotting State of Charge (SoC) over time excluding non-trips
---
Example #10: Reviewing the quality of the GPS/IMU data
---
Example #11: Who's the better driver - Martin or Josefine?
Example #12: Analysing data from multiple vehicles
12.3: 3D scatter plot
12.4: Car ranking and distance split
---
10 tips & tricks for using GPT4 with your CAN data
Below we outline practical tips and tricks:
Our verdict on GPT4 with Code Interpreter
In the spirit of this article, you'll find below both our verdict - and ChatGPT's verdict:
Ready to use ChatGPT with your own CAN data?
Get your CANedge today!
---
Recommended for you