CANvas - Configure, Stream & Decode CAN Bus Data
Need to easily configure your CLX000 - or stream/process data?
CANvas is a 100% free optional software for the CLX000 CAN bus data loggers.
In this intro, we outline key features for configuration, streaming and data processing.
You can download CANvas and find guides in the software section.
Note: The CLX000 now also supports streaming via the popular SavvyCAN tool.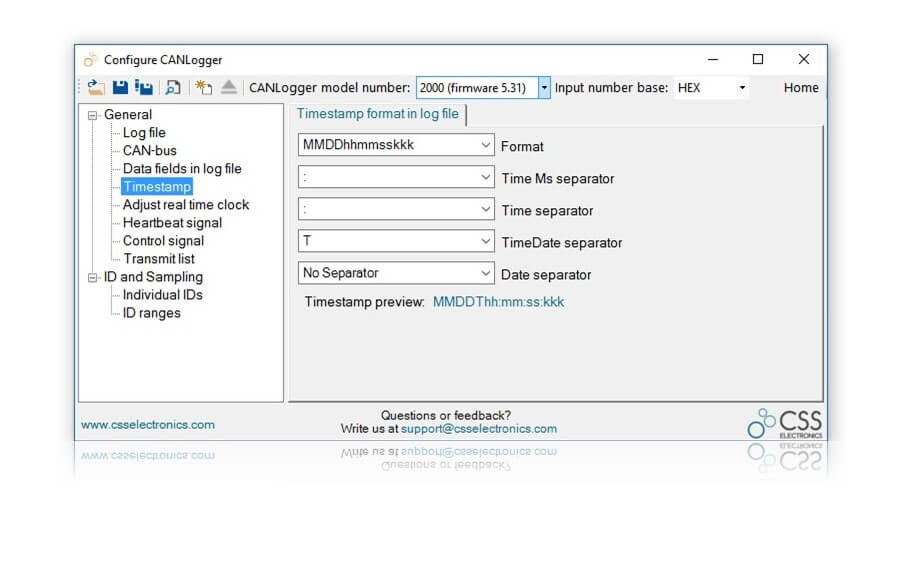 Configure your CAN logger
The CLX000 is plug-and-play so you can log data out of the box. However, it is also highly configurable - and CANvas is a great tool for doing so!
Key features
General: Logger ID, separators, file/time split limit (e.g. new log every 50 MB)
Bit rate incl. optional auto-detection and Silent/'Listen Only' mode
RTC: Customizable RTC and date/timestamp format (CL2000/3000)
Cyclic Logging: Delete oldest files when SD card is full
Heartbeat: Receive status message every second from the logger
Control: Optionally use custom trigger CAN ID to turn logging on/off
Transmit: Add custom CAN messages to be sent periodically (e.g. for OBD2)
Filtering: Specify message filters & down-sampling to focus your logging
WiFi: For the CL3000, you can easily configure the WiFi settings
OBD2 DB: Easily log OBD2 parameters with the built-in database
WiFi TimeSync: Keep your CL3000 RTCs in sync via online clock
Virtual SD cap: Set a virtual max size on the logger's SD card
---
Live stream CAN bus data
As a new feature, the CLX000 is no longer "just" a data logger. It now also serves as a fully functional CAN interface - which means you can live stream CAN bus data directly on your PC. With CANvas, it takes just 2 clicks to start streaming!
Via CANvas, you can stream data through the World's most popular network analyzer, Wireshark. Further, our free open source plugin for Wireshark adds a number of critical CAN bus features.
Key features
Advanced and highly customizable message/data filtering
DBC support: Stream human-readable data (aka engineering values)
OBD2 dissector: Convert all Mode 01 standard parameters in real-time
'CAN Live': Trace unique CAN IDs and colorize data changes (for CAN sniffing)
Plots: Intuitive real-time graphical plots of converted data (e.g. OBD2, J1939, …)
Easily export to multiple formats incl. *.csv, *.c, *.txt and more
Load a CLX000 log file to leverage the Wireshark & Plugin features
Connect to the logger while data logging and leverage all the above features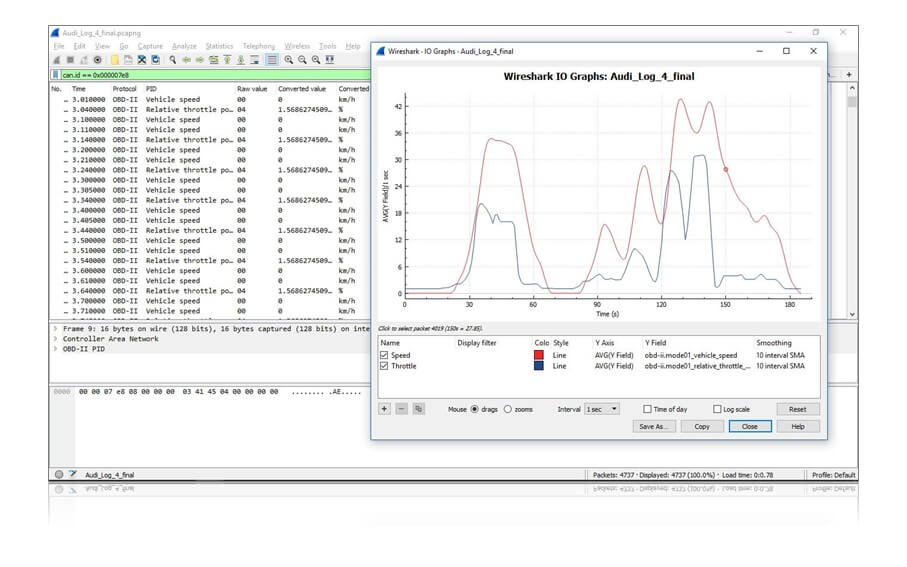 ---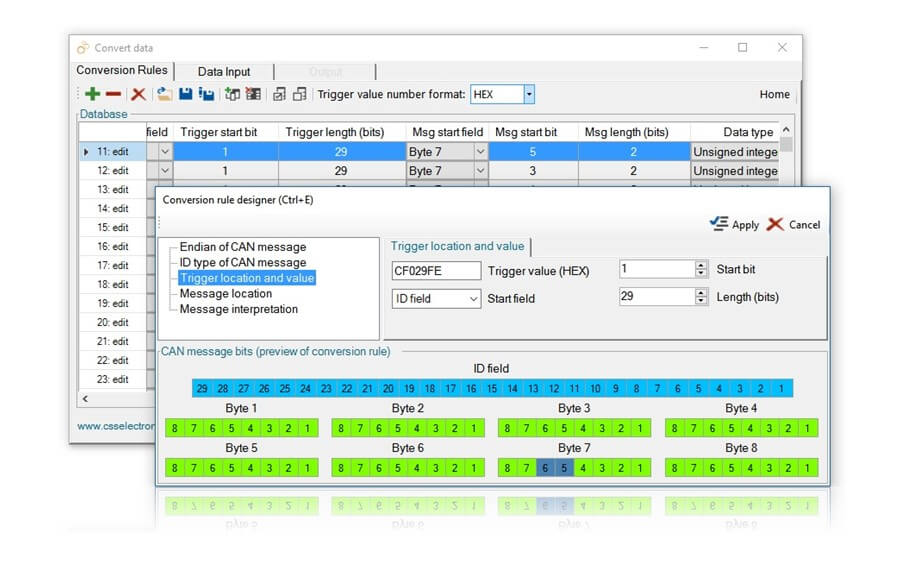 Process & DBC-convert logged data
Finally, CANvas supports easy conversion of your CLX000 log files!
Simply load a DBC file, your log files and convert the data to scaled engineering values. The output format is *.csv, ready for import into e.g. Excel or other 3rd party software.
Key features
Load DBC files: Convert via the standard DBC format (incl. J1939)
FMS: Built-in support for FMS conversion rules (buses, trucks)
Batch convert: Load batches of log files & link them based on session IDs
Rules: Add custom conversion rules (incl. name, start bit, length, scale, offset)
Downsampling: Downsample the logged data to e.g. 5 min interval output
Columns: Add custom columns to the output file
Timestamps: Adjust timestamps to e.g. be split in columns (Excel pivot friendly)
Merge log files: Merge multiple files into one output file
Re-format log files: Change format into Vector CANalyzer or PEAK formats
Summary Stats: Add summary statistics to downsampled data (std. dev., min, max)
OBD2: Easily convert OBD2 data with built-in conversion rules
Auto-convert: Set up scheduled auto conversion in seconds
Ready to log & stream your CAN bus data?
Get your CLX000 today!
---
Recommended for you