DIRECT ACCESS
Skip OBD2/J1939 connectors - connect directly to the CAN wires
CONTACTLESS
CAN data is logged without cutting wires (warranty kept)
EASILY POWER
Power via the DC connector, or via the CANedge CH2 power out
STRONG GRIP
Perpendicular fixation ensures that the CAN wires do not slip
PLUG & PLAY
Simple to set up - ready to log in seconds with your CAN logger
100% SILENT
Works in "listen only" mode and does not affect the CAN bus
About the CANCrocodile
The CANCrocodile enables safe reading of data from the CAN L/H wiring harness (e.g. in vehicles). It can be used to connect your CAN logger e.g. when connectors are not available - or if a contactless CAN bus reader is preferred for warranty purposes.
The CH1 CANCrocodile is ideal for logging data from a single CAN network. If you need to log 2x CAN buses, the CH2 CANCrocodile can be powered via the CANedge 2nd port. You can also mix adapters - e.g. a CH1 + CH2 CANCrocodile or a DB9-J1939 + CH2 CANCrocodile etc.
use cases
Installation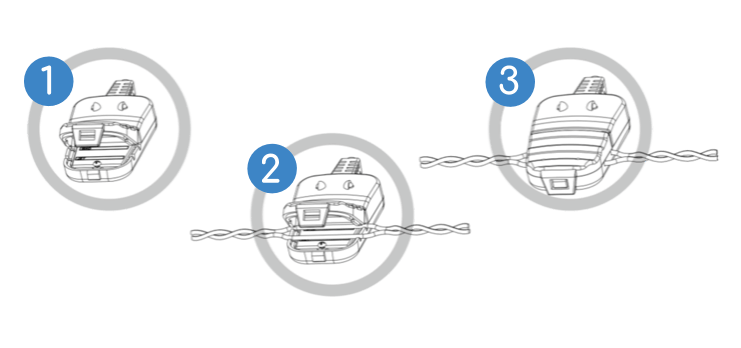 To connect the CANCrocodile head, follow the below:
Open the CANCrocodile housing
Place the CAN-H/CAN-L wires on the marked surface
Close the housing, engaging the latch
Optionally seal the housing (recommended)
Next, connect your CAN logger as outlined (depending on whether you're using a CH1 or CH2 CANCrocodile):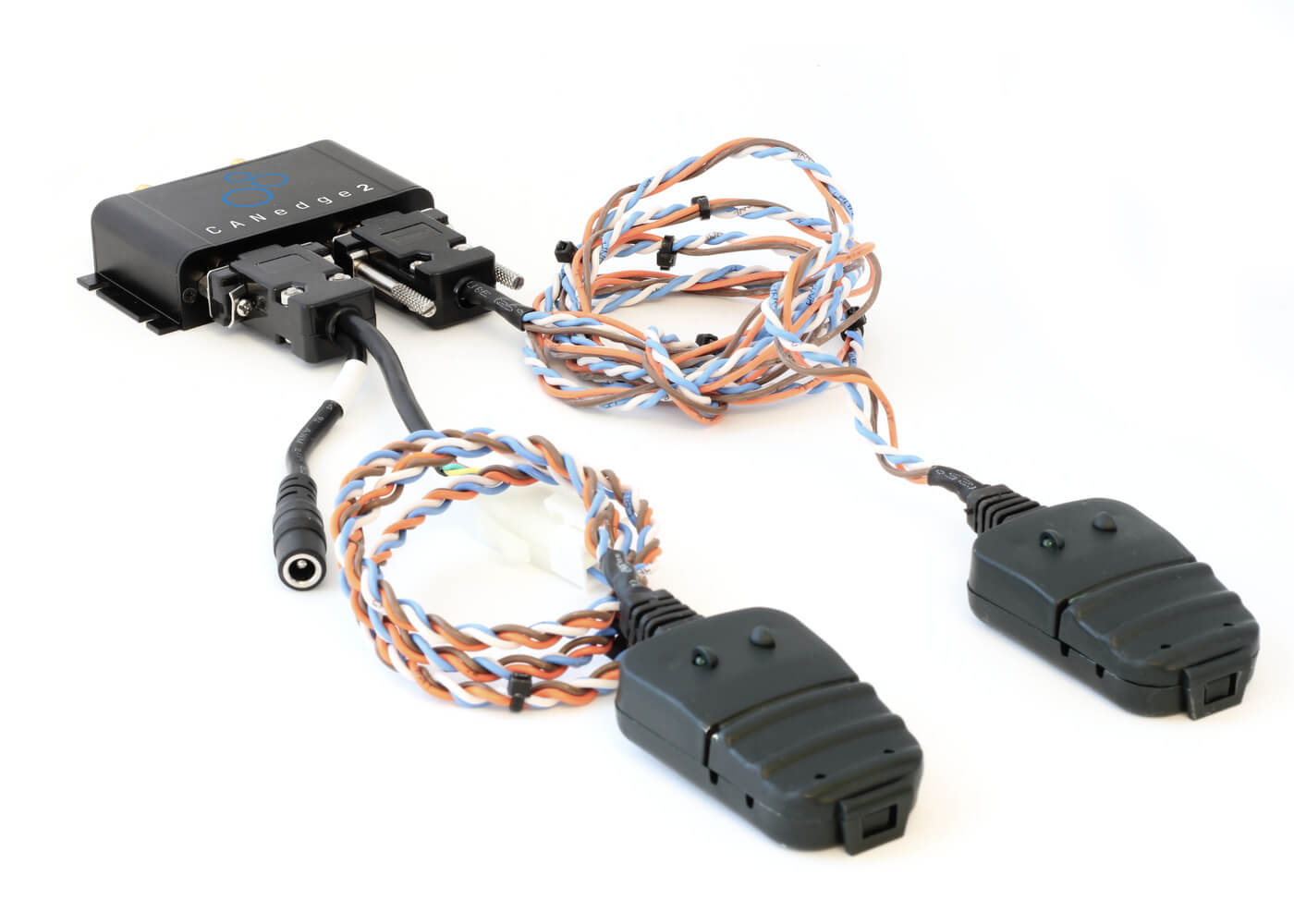 CH1 CANCrocodile
Connect the CANcrocodile to the DB9 connector
Connect the adapter & CANCrocodile molex
Connect the DC connector to a power supply (cigarette receptacle, battery pack, wallplug, ...)
CH2 CANCrocodile
Connect the CANcrocodile to the CANedge CH2
In the CANedge config, enable 2nd port power
Power the CANedge via CH1 (e.g. via another adapter)
Note: You need to use a manual bit rate and turn off Silent Mode of your CANedge/CLX000 when logging via the CANCrocodile.
Check out our tech specs, use cases or FAQ - or buy now!
We encourage you to read the full CANCrocodile installation manual before use.
| GENERAL | |
| --- | --- |
| CH1 Adapter Cable Length | 15 cm (both cables) |
| CH1 Adapter DC Connector | 5.5 mm (ID) x 2.1 mm (CPD) |
| CANCrocodile Cable Length | 70 cm |
| CANCrocodile Body | See drawing further below |
| CH1/CH2 DB9 Adapter Pins | In accordance with CiA 303-1 |
| Compatibility | High Speed CAN Bus (ISO 11898-2) incl. CAN FD, SAE J1939, OBD2, NMEA, CANopen |
| CH1 Nominal Supply Voltage | 12/24 V |
| CH2 Nominal Supply Voltage | 5 V (matching CANedge 2nd port power out) |
| CH1 Current Consumption | 30/15 mA |
| LEDs | Red: Power on; Green: CAN bus data read |
| Termination | The CANCrocodile is internally terminated (120 Ohm) |
| Temperature | Operating temperature: -20degC to +80degC |
| Weight (excl. CAN logger) | 100G |
| IP Rating | IP30 |
CH1 Adapter pinout
| | | | |
| --- | --- | --- | --- |
| DB9 (female) | Function | Molex | DC Connector |
| 1 | | | |
| 2 | CAN-L | 4 | |
| 3 | GND | 2 | Outer |
| 4 | | | |
| 5 | | | |
| 6 | | | |
| 7 | CAN-H | 3 | |
| 8 | | | |
| 9 | VCC | 1 | Center |
Product Dimensions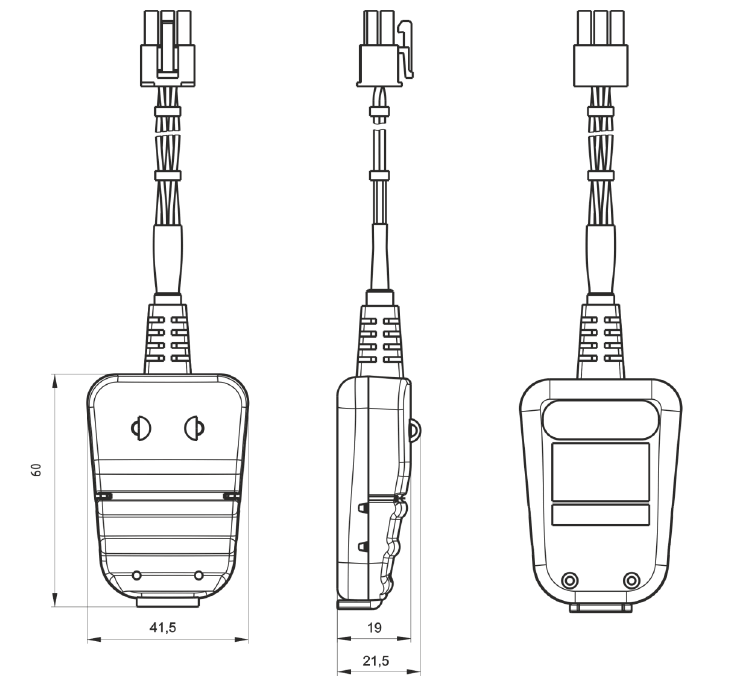 CH2 Adapter pinout
| | |
| --- | --- |
| DB9 (female) | Function |
| 1 | VCC |
| 2 | CAN-L |
| 3 | GND |
| 4 | |
| 5 | |
| 6 | |
| 7 | CAN-H |
| 8 | |
| 9 | |
Below are examples where the CANCrocodile CH1/CH2 can be useful:
J1939/FMS vehicle telematics
Need access to J1939/FMS data - but lack a connector port?
In some cases, you'll need to log CAN data from vehicles with no direct connector available. Here, the CANCrocodile taps directly into the CAN bus wires. It's automatically listen-only and 100% contactless, making it ideal for fleet applications.
Machines & test setups
Need data from a machine/test setup with no external connector?
Many machine assets (e.g. in production) do not have built-in connector ports for CAN loggers. Here, exposing the CAN wires provides a simple access point for your CAN logger using the CANCrocodile as gateway. Further, the DC connector can easily be connected to a wall plug using a standard adapter cable.
Dual CAN logging
Need to record data from 2 x CAN channels?
In many heavy duty vehicles you'll need to record data from two CAN channels. In this case, you can e.g. power the CANedge via channel 1 via a DB9-J1939 adapter - and use a CANCrocodile CH2 variant to log data from a raw wiring harness via channel 2.
For most standard purposes, you'll be able to use just a DB9-OBD2 or DB9-J1939 connector for your CAN logger. However, various scenarios exist where this is not an option:
The OBD2/J1939 connector ports may be non-existing in the specific vehicle
Other CAN tools may block the relevant connector port (or it may need to be free for mechanics
A connector port is available, but the manufacturer has set it up to not parse the CAN data through
A vehicle/machine may have e.g. two high-speed CAN buses - and the one you need to log from may lack a connector
Further, while the CANedge/CLX000 can operate in Silent Mode without the CANCrocodile, some users may find extra comfort in the CANCrocodile setup as this is physically separated from the system, i.e. with no electrical connection. For the same reason, the CANCrocodile adapter is often referred to as a contactless CAN reader.
For pure "listening" use cases where you need to log data, the CANCrocodile performs equally to having a direct connection (i.e. cutting the wires or connecting via e.g. a J1939 deutsch connector port).
In some cases, you may experience up to 1% message loss according to specifications. However, in our extensive testing, we found that the loss rate was less than 1 per 250,000 messages at the highest rate (1 Mbps).
If you need to log on-demand messages (rather than only broadcasted CAN data), you'll need to be able to transmit request messages to various ECUs - in which case the CANCrocodile will not work as it is a 100% contactless CAN bus reader (meaning transmission of data is impossible).
Instead, you'll need to configure the Transmit list of the CAN logger to send the relevant requests and then connect it directly (e.g. via a connector port).
When the CANedge/CLX000 is directly connected to the CAN bus, it'll typically be powered via the power supply in the CAN bus connector. However, when the CANCrocodile acts as gateway, this method of direct power supply won't work. That's why we've developed a custom cable for use with the CANCrocodile and our CAN loggers, adding a plug & play DC connector for adding an external power supply.
A simple solution is to combine this with our cigarette receptacle power supply adapter in vehicle applications - but you can also use e.g. a wallplug or a small battery packs as your power supply for some use cases.
In a standard vehicle (e.g. a car), you'll often be able to locate the CAN wires behind an OBD2/J1939 connector or the ECU ABS/ASR connector. The CAN wires are twisted and can often be recognized by their color.
For a more extensive guide, see the CANCrocodile CAN reader manual under Tech Specs.
---