Vehicle CAN/LIN Data Logging with Analog/Temperature Data

Engineers at NTCNA design and test Nissan vehicle systems including body, chassis, electrical, exterior trim, heating, ventilating, air conditioning, emmissions and safety.
What problem did you solve?
We periodically need to perform remote CAN/LIN/sensor data collection from prototype vehicles at our Arizona assembly plants. Specifically, we focus on diagnosing incorrect CAN messaging and HVAC performance parameter issues. Relevant protocols include CAN (500K), OBD2, LIN 1.3 and LIN 2.1. The data collection has to be done by onsite personnel who are not technical evaluators, meaning the installation has to be simple.
How did you solve it?
We are able to ship the CANedge1, CANmod.temp and CANmod.input (and related harnesses) directly to the vehicle evaluators, allowing them to install the bundle for data collection. They then send back the bundle and data for analysis, which we perform by using Vector CANalyzer and the MF4 converters provided by CSS Electronics.
As an example, we use the CANmod.temp to measure thermocouple based temperatures in sync with with the CAN/LIN traffic - making it easier to troubleshoot issues.
Of course, knowing what the HVAC controller settings are, what corresponding LIN bit positions are requested and what LIN actuator positions are actually achieved is important.
However, that information is not really useful without having the actual duct temperatures and blower voltage collected together in one package using the CANmod.temp and CANmod.input.
"The CANedge/CANmod is a convenient, easy-to-use and affordable tool for data collection"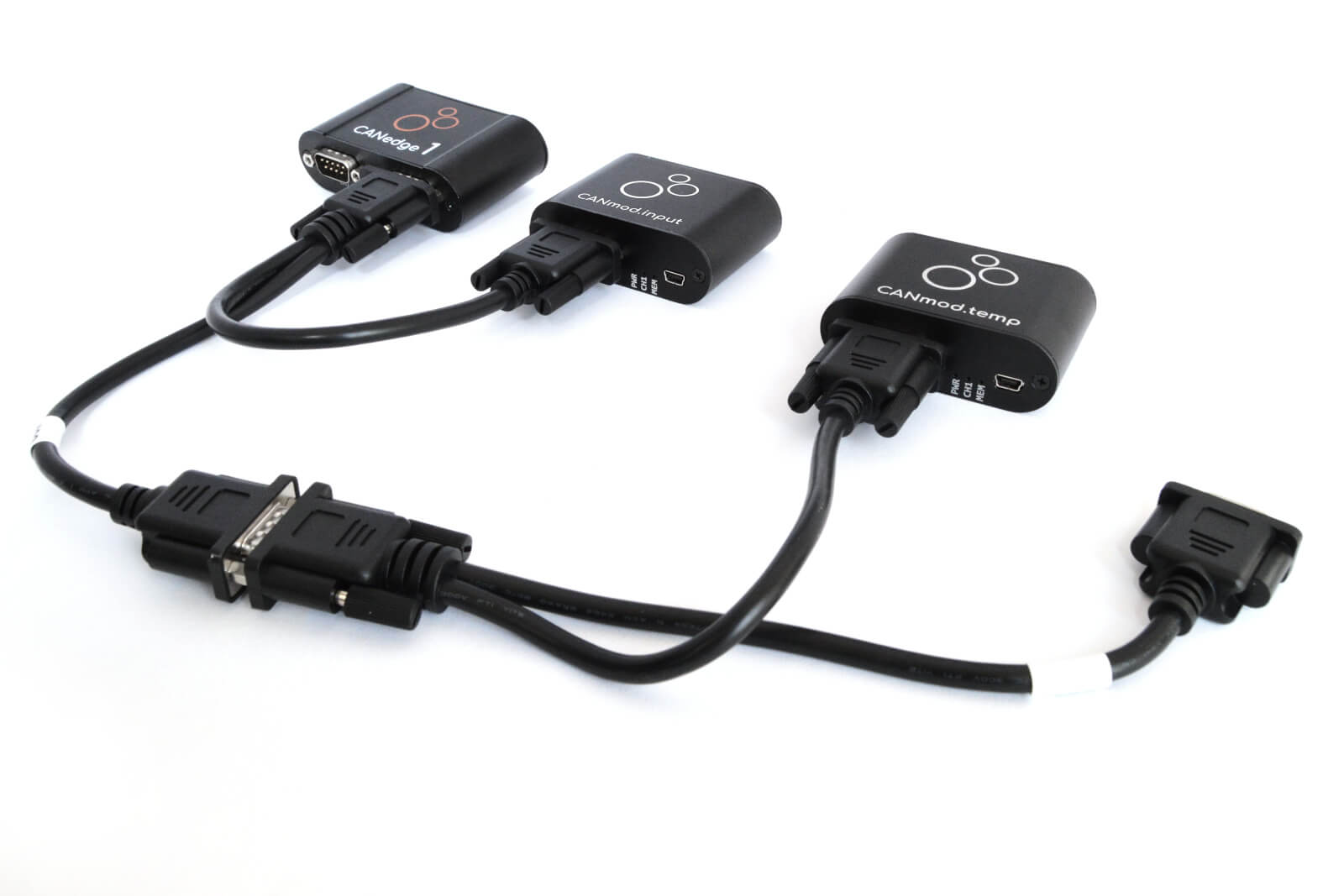 Normally, we would collect all this data manually when we are onsite at the manufacturing plant. But we now have the ability to package the entire CANedge/CANmod bundle and simply ship it to the site. The recipient of the bundle may be Field Quality, Test Track Operations - or even a customer vehicle at a dealership. Upon receiving the bundle, they can easily connect it to the vehicle in a couple of places via our in-house interfaces. After this, they simply drive around for a couple of days or weeks and then send us the MF4 log files for analysis.
What benefit has this led to?
The CANedge/CANmod combo has enabled quicker root cause analysis and allowed us to avoid travel. With increasing fuel prices, air travel is expensive - rendering this a more economical and time saving option for us. As an example, we used the bundle to diagnose an instance of a LIN actuator that was incorrectly addressed from the actuator supplier.
Why did you choose the devices?
We originally selected the CANedge/CANmod due to the fair cost and ease-of-use.
   — Jim Thomas, HVAC Controls Design, NTCNA
Ready to log your CAN/LIN data?
Get your CANedge & CANmod today!
---
Recommended for you